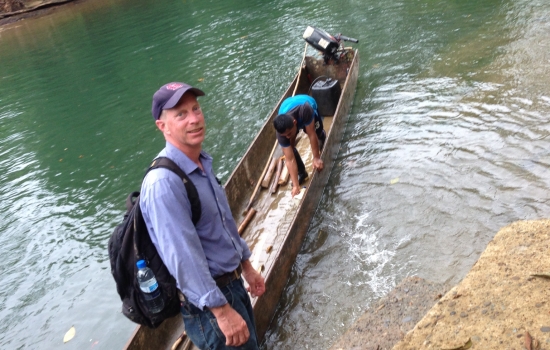 07.22.2015
"Yesterday, God blessed me with an amazing adventure," said Mission Society missionary Tim Datwyler. "I went to a small community of the Awa tribe in the northeastern part of Ecuador. I never thought in our life as missionaries that God would take us to such a remote place."
Tim and Daina Datwyler have served with The Mission Society since 2000. They are both ordained pastors in the Methodist Church of Ecuador. Together they founded "Ministerios de Puerta de Esperanza" which translates as "Door of Hope Ministries." They planted a church, work with children and youth, and train lay pastors.
Tim's journey involved a five-hour car ride followed by a three-hour hike through the jungle. Tim described it as, "forging rivers, walking over Indiana Jones-style bridges, climbing up and down mountains in the jungle, hiking in the pure hot sun and through drenching rains." An adventure, even for this veteran missionary.
Tim was joined by his friend, Juan, and their guide, Segundo, who is from this community of the Awa tribe.
The idea for this journey began when Juan met Segundo and was taken by his people's story. No one had ever come and shared anything about God or God's Word to his people, Segundo told Juan. Having heard this, Juan sought out his friend and pastor, Tim. "What do I do? How do I do this?" Juan asked Tim, wondering how to share the gospel with people who have never heard. They decided they would go together to meet Segundo's people.
Others members of the Awa tribe live in locations around Ecuador and Colombia, but this isolated community of 270 Awa live at the fork of two rivers in Ecuador. Unlike others in their tribe, they are unfamiliar with the gospel. Many in this community earn their living by cutting and selling trees, so they have regular dealings with the "outside world." Still, they can be cautious about outsiders.
Tim, Juan, and Segundo received a warm welcome when they arrived. Several people gave them a tour of the community. There is a small school where 70 children attend. Teachers, who venture from surrounding areas, arrive on Sunday afternoon and stay until Friday. Many Awa adults in the community have never finished school, so when Tim and Juan asked about their needs, the people told them they would love to have a literacy program and healthcare.
Already, Tim and Juan have begun planning for their next visit and how they might be able to help connect the community with doctors and literacy workers.
Before beginning their journey back, Tim told the Awa people about the creator God Who created the skies, trees, and rocks—and every living thing. That was news to them, but "they already believe there is a God," Tim observed. They told him, "When we plant a garden, we ask God to help." But beyond that, they know little else.
Communicating the gospel will take some time, but Tim and Juan are excited. They plan to make regular trips to the community.
"When Daina and I answered the call to be missionaries, we told God we would go wherever He took us. So now, God places before us the opportunity to go to this remote place. It's exciting to see where God will take us."