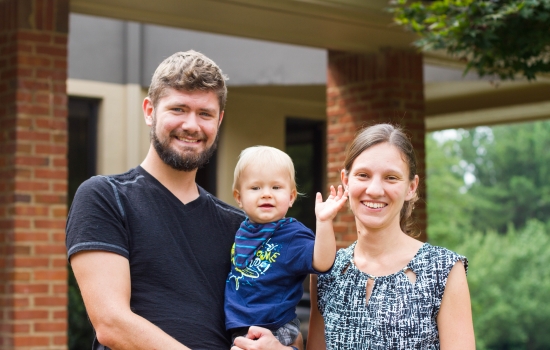 09.23.2015
Johannes and Lena Ebner serve with Children of Zion Village in Katima Mulilo, Namibia, caring for orphans and vulnerable children in that region. During their time in Namibia, the Ebners have witnessed God's miraculous provision for and protection over their family.
Told they could never have children, Johannes and Lena joyfully discovered they were expecting shortly after arriving in Namibia. But when Elias was born, an erratic pulse sent him to the NICU.
Diagnosed with a heart condition, Elias was prescribed a beta-blocker. When the prescription was filled and the label printed, the dosage instructions wrongly indicated ten times the correct amount. Within a week, the bottle of medicine that was supposed to last for three months was three-quarters empty.
The pharmacist confirmed the error and the Ebners immediately took Elias to a doctor, who urged them to get him to a hospital in Windhoek, Namibia. However, with no flights available, they would have to travel the 800 miles by car.
Starting out at 1:00 p.m., Johannes and Lena watched anxiously as Elias' heart rate dropped dangerously low. His face and lips turned blue. He was barely breathing. They prayed fervently and trusted in the prayers of others interceding on their behalf.
Passing the halfway point in the dark, they saw a car coming from the opposite direction whose lights suddenly went out. A second later, Johannes slammed on the brakes as a pick-up truck flew over their own vehicle and crashed, having collided with a huge wart hog in the road.
Realizing that there could be 200 miles between towns, Johannes and Lena prayed for wisdom. Should they stop to help, or continue on their urgent trip to save their son? God immediately answered. Elias began to breathe more easily and his heart rate improved within seconds.
Johannes stopped the car. A girl had flown through the windshield and was bleeding profusely. They put the injured girl in their vehicle and drove her to a nearby village. They left her in a small clinic under the care of a nurse, praying she would recover. Then they drove on, reaching Windhoek at 1:00 a.m. Elias was connected to monitors and kept 24 hours for observation. Much to his parents' relief, Elias recovered.
They later learned that the injured girl had been taken to a town where a surgeon could treat the wounds on her face. Though still in the hospital still six months later, she is alive and recovering. It was a miracle.
Lena says, "When we said to God, 'No matter where, no matter when, no matter the cost,' we didn't think that might include us sitting in a car, holding our dying baby, driving 800 miles to a hospital. Even though that's not directly related to our ministry working with the orphanage, it is part of what God is doing through us and through you, because you are praying and interceding with us."
A few months after this incident, Johannes and Lena took Elias to Germany. A cardiologist there found nothing wrong with his heart and recommended discontinuing his medication. Another miracle!