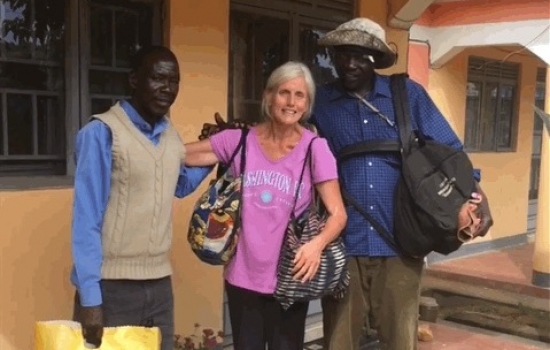 10.15.2018
When Nancy first moved to Uganda, God spoke very clearly to her. Nancy had just arrived in Uganda a few days earlier to serve as a TMS Global cross-cultural worker, and she was still jet-lagged and tired. She walked to the town market to purchase a few items, and God spoke to her heart.
"God showed me people who no one spoke to, touched, smiled at, or greeted," said Nancy. "I saw people in extreme poverty, homeless men and women, the addicted, and people who are mentally ill. I saw people whose faces wore an emotionless mask marked with downcast eyes. I saw people who ate from trash bins and rubbish piles. I saw people who seemed to have been forgotten by everyone, except by our great and glorious God. He told me that I was to go to these people and to love them."
Nancy was determined to do something for the marginalized people she saw, but she was afraid. Ugandan friends and expats told Nancy to stay away from the people on the streets. So Nancy began to pray. She prayed for the people who seemed to be forgotten and unseen by others, and she prayed for the courage to follow God's call.
Nancy began trying to engage marginalized individuals as she walked the dusty streets each day. "I realized that we were more similar than different," said Nancy. "I saw hungry people and realized that I, too, am hungry for the bread of life. I saw people who were thirsty and recognized that I thirst for living water. I saw people whose bad choices created sickness in their minds and diseases within their bodies, and I remembered all of the bad choices that I have made throughout my life. We are equals, because God loves them just as much as He loves me.
"As I came to these realizations, I looked at marginalized people differently. I looked into each face, and I saw Jesus."
Nancy began engaging people on the street. She would smile, greet them, and learn their names. Sometimes she would give them some of her groceries or a few coins. All the while, Nancy was trying to build trust and establish a relationship with the people she met. But Nancy admits she was still afraid of the call God had placed on her heart.
"One day I was walking by a woman on the street and God told me that I could not claim to be His daughter and continue to walk by His children in need without doing anything more," said Nancy. "That hurt, but I knew in my heart that it was the truth."
Nancy called together several of her friends. Two had a background in the mental health industry, one was a Ugandan pastor, and one was a social worker. Nancy asked them to each pray every day for a week about how to minister to marginalized people, and they would meet again.
When the group reassembled a week later, God had given each person the same vision. "We call it the 'Freely Give Ministry,'" said Nancy. "We go out and walk the streets of Arua, armed with bags of food and water, and freely give to those who are in need. We aren't building dependence. We are keeping people alive and well while building bridges of love, trust, and relationships. And we know that this is just the first step."
Nancy and her team have big dreams for the future of this ministry. They have discussed coordinating a 12-step program, a clothing drive, daily meals, and a group home that offers job training skills.
"Jesus loves the poor, the sick, the addicted, the oppressed, and those in prison and in hospitals," said Nancy. "He always sees those who society casts out. When Jesus walked the streets, He noticed people, loved them, healed them, and set them free. He's calling us to do the same. God brings the marginalized to us right where we are so we can join Jesus in building the kingdom.
"This is my story of reluctant obedience, fear, hesitation, and doubt. It's not something I'm particularly proud of. But my prayer is that God will continue to open our eyes to see those whom others don't see, so that, through us, they can see the loving, forgiving, and healing face of Jesus, extending His hand and saying, 'Come to me, all you who are weary and burdened, and I will give you rest.'" (Matthew 11:28, NIV)
Next steps:
To explore cross-cultural ministry and serve people who need to know the transforming love of Jesus, complete a short form and a mobilization coach will be in touch with you.