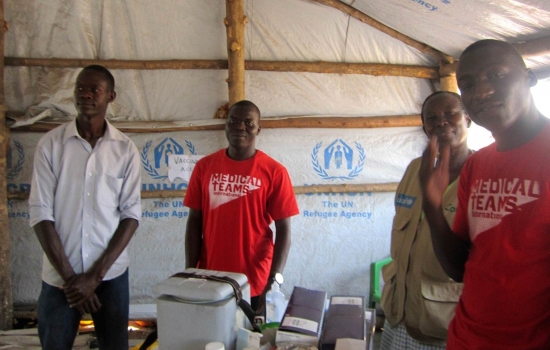 06.13.2017
Doctors Lynn and Sharon Fogleman moved to South Sudan in 2012, soon after the country gained independence. Both family physicians, Lynn and Sharon taught a Community Health and Disease Prevention program within The United Methodist Church of South Sudan. The young country has one of the poorest health care situations in the world.
Carolyn Goodwin, a retired nurse, joined the team in 2015 and developed a prison ministry, along with assisting in the medical stores of Yei Hospital. Together the team worked in partnership with the hospital and county health department to improve the lives of South Sudanese through educating regarding clean water and sanitation, providing nets to prevent malaria, and addressing other common health issues in that region of Africa. They were also actively sharing the gospel with South Sudanese.
Although violence was a common part of life in this new country, the team resided in Yei, which remained relatively safe. That changed in 2016 when tension between government and rebel forces increased dramatically.
"Government soldiers were raping people, looting businesses, burning homes, and killing any one they found who sided with the rebels," said Lynn. "The rebels were doing the same thing, so travel beyond our town became very unsafe."
The Foglemans' good friend and fellow missionary, Sister Veronica of St. Bahkita Hospital, was killed in May of 2016. A Catholic nun and a physician, she was traveling home by ambulance after taking a patient to the hospital. Soldiers ambushed the ambulance and shot her.
Last July, the TMS Global team made the difficult decision to leave Yei. They each packed a small bag and made the dangerous drive to the border, which was closed an hour after they crossed into Uganda.
The war has caused more than 1.7 million South Sudanese to leave the country as refugees, and an additional 1.9 million people to be internally displaced. Most have fled to Uganda, where more than 850,000 people are residing in refugee camps.
The TMS Global team settled in two cities in northern Uganda and are serving in a several refugee camps on the border. Lynn, Sharon, and Carolyn have been joined in Uganda by Nancy Peed, a former hospital CEO and respiratory therapist.
In the refugee camp, TMS Global workers are providing medical care and healthcare education, and are discipling Christians in their faith. One worker was recently trained in biblically based trauma counseling in order to minister to residents. She is also training South Sudanese pastors at the camp so that more people can receive counseling.
"Soon after they arrived at the refugee camp, Christians had pulled together and were helping one another," said Sharon. "Their resilience was amazing. They had set up a compound of tents for the 36 orphans from the children's homes in Yei and were caring for them. The community radiated hope."
For the director of the children's home, Justus, the situation was sadly familiar. He had to flee to a refugee camp when he was four years old. "My father told me we would just be there for a few weeks. I lived in that camp for 21 years," said Justus. He now lives in the camp with his wife and two young sons, and continues to care for the orphans who fled South Sudan.
"Although South Sudan is in a very dark place right now, we still see hope. The Christians in South Sudan know that Jesus is their only hope, and that is what they cling to," said Sharon. "Join us in praying for peace in South Sudan."