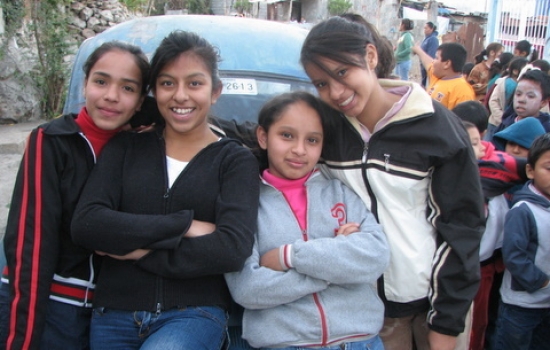 06.25.2008
Approximately 70 pastors, missionaries, and leaders from four annual conferences of the Methodist Church of Mexico gathered at a beautiful retreat center in the mountains outside of Monterrey for a three-day missions mobilization conference. During the conference, Darrell Whiteman taught on the subject, "Communicating the Gospel Across Cultural Barriers." At the conclusion of his teaching, the Global Outreach Seminar was presented by a team of both American and Mexican teachers.

Mission Society missionary and staff member Steve Wilson was intimately involved in the coordination of the conference and taught during the event. Upon reflecting on the conference he said, "Tonight was the culmination and beginning to something great, something long-awaited, something many have prayed for, for so many years. As I've shared with a few key people tonight and as we've mutually thanked God for what He's doing…we've commented how literally God is putting the puzzle pieces together and it is beginning to look like the birth of the Mexican Methodist mission movement."

He recalls, "Javier Rascón, the director of M-Aqui, a small mission sending agency who has sent out the only Methodist missionaries, spoke. He told the story of how, nine years ago, he was asked to start a mission sending agency that was birthed because the Methodist (Mexican) Missionary Society was not really succeeding. Each of the six Methodist annual conferences had appointed someone as president, but this had not really functioned well. For this reason, M-Aqui was birthed. Javier spoke about how, looking back 100 years into the history of the Methodist Church of México, there was mention of only one missionary until M-Aqui's founding. He spoke of how they made many mistakes, especially with their first missionary. The mission agency has had roughly nine units, mostly singles, and one or two couples, all of whom have been Methodist. … Rascón said that if the Lord came to take him home right now he would be happy because the gathering of different Methodists from around Mexico (Monterrey, Monclova, Reynosa, Matamoros, Puebla, Mexico City, Tiajuana, and Chihuahua annual conferences) is what he has prayed for, for nine years."

The district superintendents agreed to begin promoting missions and supporting missionaries in their conferences. They also resolved to take a short-term mission trip together. The material was well-received and The Mission Society is already planning a follow-up event for October 2009.