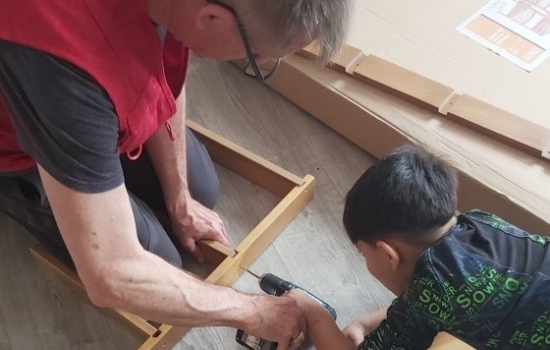 05.31.2022
Listen to this story in the player above!
TMS Global cross-cultural worker Billy Drum stands inside Ukraine, just across the border from Romania. Behind him, two Ukrainian pastors accept vanloads of donations.
"We just unloaded two vans into their vans on the Ukrainian side of the border. The pastors are going to be taking the supplies to their respective towns, and they're going to distribute food and some over the counter medicines," Drum says.
Drum and fellow TMS Global cross-cultural worker Ryan Marcum have traveled here from Spain. They are working with colleagues from another organization to help bring aid to those affected by the war in Ukraine. Last month, they sponsored the purchase and delivery of goods including food staples, diapers and baby food, medications, and first-aid supplies.
The donations were handed off to two pastors who remain in Ukraine. The men are considered "fighting-age" and are therefore required to stay in the country. But they are also there to care for the members of their congregations who are staying behind. Marcum says a pastor he spent some time with was surprisingly positive and upbeat, though the pastor's family had fled to Romania.
"One of the things he said that stuck out was just knowing that his wife and his daughter were safe and in Romania made it easier and better for him. He had a purpose, he had stuff he was able to do because he knew they were safe," Marcum says. "He didn't have to worry about them."
The pastor said his wife and daughter were tired of being away from home and want to go back to Ukraine.
Marcum and Drum say that's a common sentiment they're hearing among refugees from Ukraine. People just want to go back home. While on the border, Marcum and Drum encountered both people who were leaving Ukraine and those who were going back in. The people who were returning had waited until bombing had stopped in their city, and were going back with their families, possessions, and pets, ready to see what remained of home.
At the border crossing, Marcum says, volunteers and workers handed out water, food, and coffee. He says many people are looking to help in whatever way they can.
"On the ferry coming back we met a man from Denmark or the Netherlands," Marcum says. "He had driven in two or three days by himself in a van to get to the border and get across to deliver food and medications for animals, because so many animals are being abandoned. He had a big van and about 10 or 12 crates full of cats that he was driving back. Then he was going to come back and do the same thing in two weeks. Billy and I also met a veterinarian from Colorado who had come just to help animals on the border for a couple of weeks."
Meanwhile, inside Romania, Marcum and Drum helped prepare housing for refugees. This looked like laying flooring, hanging cabinets, and assembling beds.
Trained in trauma care, Drum was also there to care for the emotional needs of refugees. In Romania the Ukrainian people he was with told him, "Bombs were falling everywhere. Bombs destroyed our city. We had no choice. We had to leave." Refugees are feeling the stress of being in an in-between stage, Drum says. They want to go home, but don't know how long the war will last, or how long they will be away from their country.
Drum also seeks to care for refugee workers, noting that the weight of carrying the stories of others can cause burnout.
"It's vital that they, too, are receiving care, a listening ear, encouragement, and rest," Drum says.
For now, the refugees who Drum and Marcum met have food, shelter, and community. And interspersed with the pain and grief, there's even laughter.
TMS Global cross-cultural workers (CCWs) continue to help people affected by the war in Ukraine. Our organization has set up an account to grant money to CCWs and partners who are engaging with refugees.