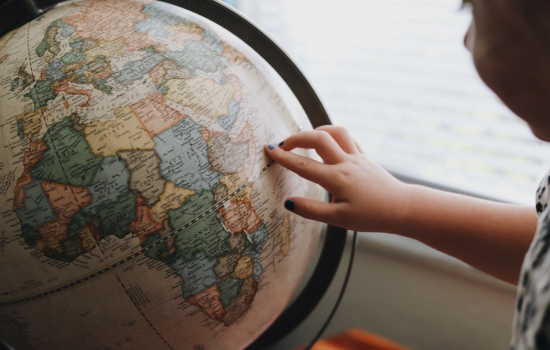 05.18.2020
As I write this, I realize that we are in a place that we have never been in before, at least not in my lifetime. The world is experiencing a global pandemic that has closed country borders, isolated individuals and families, and deeply hurt the world's economy. Some of us are still sheltering in place, but all are still encouraged to wear masks and socially distance. One thing that has been coming to mind over the past two months is how to join Jesus in His mission now, even with restrictions and "business-not-as-usual."
God has so lovingly given us His promise to bless us so that we would be a blessing to all the nations of the earth (Gen. 12:1-3). God has invited us into that promise through Jesus' mandate (Matthew 28:19-20) to go and make disciples of all nations. The promise and the mandate have not changed with COVID-19. God is still working to fulfill His global purpose to bless all the nations of the earth, and we have a role to play. During COVID-19, there is a special opportunity to show the world the love of Christ in small yet profound ways.
Here are practical steps to be more intentional about joining Jesus in His mission during a global pandemic, using 6 Ways to Reach God's World.
Learn:
Learn about God's purpose and promise by taking Perspectives on the World Christian Movement. Local classes normally happen in the fall and spring, but, considering the current situation, virtual and online classes are available, too.
Read missionary biographies to your children or just for yourself.
Learn which people groups live close to you. https://www.peoplegroups.info/
Try learning a new language via Duolingo.
Pray:
Begin a virtual or socially distanced prayer group with friends for unreached peoples. Joshua Project is a valuable resource to use.
Pray for missionaries who are supported by you or your local church. Respond to their updates with how you prayed, or ask to pray virtually for them.
Grab a globe and let your children pick a country to pray for as a family.
Map out a driving route through your community as a Prayer Drive. Play worship songs you enjoy singing, and select some scripture passages to read over your community as you drive.
Send:
Continue to give financially to missionaries. If you want to be extra generous, give to help them provide food for their neighbors who may be in need.
Send encouraging notes or have children draw pictures for those in nursing homes and senior care facilities.
Give donations to local food banks and other community service ministries.
Send a meal or bulk snacks to a foster family in your community.
Go:
Check in on your neighbors. Call, text, or speak to them from six feet away. Make sure they are doing okay. Find ways to serve those who may be vulnerable.
Give to your neighborhoods by serving in local food banks and other community ministries that need volunteers during this time.
If you've been thinking of serving internationally, now is the time to get connected to an agency and begin the process. Don't wait until this is all over; start preparing now.
Take your family on a virtual short-term trip by watching documentaries or movies about people groups or countries. TMS Global series A Day in the Life is a great place to start!
Mobilize:
Welcome:
Find a group in your area who is welcoming refugees and internationals. Volunteer as a friendship partner or English partner through virtual avenues.
Intentionally support small businesses that are owned by internationals.
Many international students have been unable to return home. Call the local college or university to see if someone has a need for housing.
Use your skills to make masks for refugees in your area.
Pray over this list. What sticks out to you? Ask God to show you the way(s) He is leading you to join in His mission, and take a step in that direction today.
Lindsey Sprague is the mobilization coordinator for TMS Global.