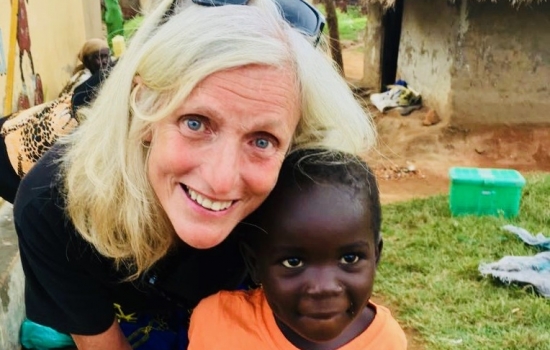 06.28.2018
Can you describe what changed in your life that led you to serve in full-time mission work?
There was a time when I was so caught up in my life—my family, my career, my money, my house, even my church. But thankfully God quietly and surely called me to missions in Africa. He began to show me that all the things I was holding on to so tightly really didn't matter. Then one day, He gave me the courage to surrender and to let Him take over my life completely. And since that day, about three years ago, when I paced anxiously across my deck overlooking the Flint River, my mind heavy with the magnitude of all I would surrender, I finally found the freedom and the greatest peace I have ever known.
So I gave away or sold all of my possessions and hugged my father and daughter goodbye before boarding a plane to Uganda. I thought my heart would break into a million pieces.
Today, I feel at home in Africa and am thriving. Just recently, I was sitting on the back of the motorcycle with the warm African breeze blowing through my hair, and I thought, What if I had said "no" to Jesus' call to serve Him cross-culturally? Look what I would have missed!
What do you wish people could know about life and faith as you experience it now?
Within us all there is a longing, but we spend our lifetimes trying to deny it or silence it. The noise of this world keeps us distracted. Activities entertain us. Silence, rest, and peace are rarely part of our days. We stay busy bravely trying to keep on our masks of self-reliance.
So what have I learned in Africa? Here in this beautiful place, surrounded by authentic, honest, and humble people, I have seen my needs for things to simply fall away. It started with the basics—comfort, air conditioning, hot water, electricity, medicine. And as these things were removed, at once I had new eyes and began to see that I am hungry. I am weak. I am not in control. And the mask of self-reliance that I have worn for so long fell to the ground. I no longer needed it.
Finally I am becoming who I am meant to be, who I have always been—a child of God, who is dependent, and weak, but clothed in light. I am secure in my reliance on Jesus—the One who can stand in the gap of hunger, weakness, grief, pain, and oppression. He emerges brighter, stronger, and more powerful. I am being transformed. God is taking me on a beautiful journey. He is transforming me so I can be used to serve Him here, in Africa, where He has brought me.
He is calling us all to follow Him. It probably won't be to Africa. Maybe it will be just across the street. Maybe it will be a call to serve in our church, to teach little ones, to give a little more, to want a little less. He is calling. My prayer is that we can make a space to hear Him through all the busyness, and surrender ourselves to follow Him.
I've learned that in following Him wherever He leads, I can finally lay down my burdens, drink from the streams of living water that refresh and restore, and find the only real and lasting peace. In my journey with Him, I am finding true freedom—and indescribable joy!
Nancy Peed serves the people of Uganda and the refugees of South Sudan primarily through mentoring and developing local healthcare.