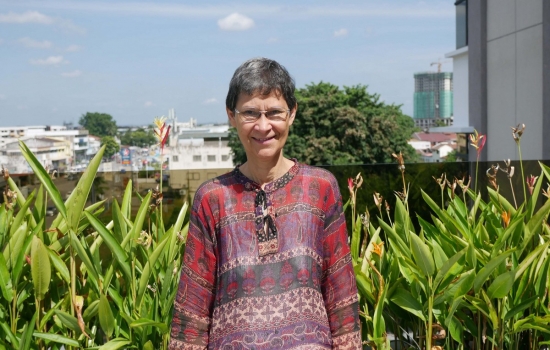 04.29.2019
Margaret's husband died at the age of 31, and she was left a widow with two young children. She felt called to serve as a missionary but ran from God's call on her life for some time.
Margaret eventually surrendered to God's leading in her life and was accepted to serve with TMS Global and World Gospel Mission. She served in a partnering relationship with the two organizations.
Gifted in administration, Margaret moved to Kenya where she worked as the office manager for a mission hospital and for the Evangelism Explosion ministry. Her daughters attended a local boarding school.
"During the first year on the field, I asked myself, 'Why am I here?'" said Margaret. "God said, 'I called you, and that's all you need to know.' That kept me going."
In 1998, Margaret moved to Kazakhstan to serve with a TMS Global team. For the next 14 years, Margaret led an English and microfinance organization. She also served as the team treasurer, led Bible studies for Kazakh and Russian men and women, and coordinated a prayer ministry.
Margaret moved back to Kenya in 2013. She served as the field treasurer for the World Gospel Mission team for the next six years. After 30 years of service, Margaret is retiring and moving back to the US.
"Life with the Lord is a great adventure. I don't know what the next step is going to be," said Margaret. "I am a perfectionist who likes to have a road map, but God always has a better plan. He guides me step-by-step."
If you are interested in serving cross culturally, contact us and a mobilization coach will be in touch with you.