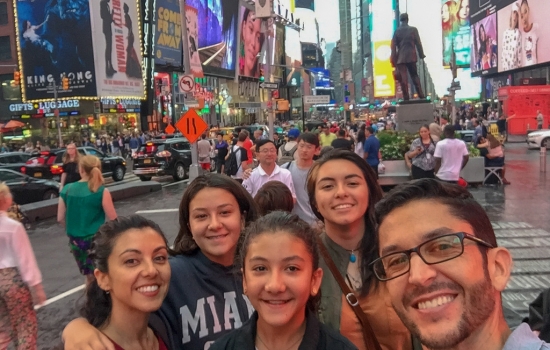 12.16.2019
Tyler and Kaylan Foster are TMS Global cross-cultural workers who serve with Jungle Kids for Christ. Tyler serves as the director of marketing and the short-term team coordinator, and Kaylan teaches middle school math at Antioch Christian Academy. The school was founded only eight years ago and has made an incredible impact on its community. Find out how God called the Davalos family to spread His love in Ecuador.
Roberto Davalos moved to the US when he was 21 years old and began pursuing the American dream. He joined the US Air Force, married an American woman, and had a young daughter. He had a nice house, two cars, and the ability to retire at age 42 and receive a pension for the rest of his life. His life was comfortable, and he was happy.
Roberto and his wife, Charmai, decided to follow Jesus after they were married. They were attending a church where they were stationed in Valdosta, Georgia. One night, they heard a cross-cultural worker who served in Peru speak about his ministry. On the way home from church that night, Charmai said, "I am going to become a missionary."
Roberto struggled with Charmai's call to ministry. He spent six months reading the Bible and praying about whether or not their family would serve as cross-cultural workers. He said, "What struck me was the verse in Matthew 10:39, 'Whoever finds their life will lose it, and whoever loses their life for my sake will find it.'
"I had a good job, a house, a wife, a daughter, and a pension. It was really difficult to let go of those things and trust God for our future."
Roberto surrendered to God's call and told God that he would be willing to go anywhere but Ecuador. Roberto and Charmai moved to Quito, Ecuador a short time later. They served with a cross-cultural worker who ministered through a school and an orphanage. After working with him for a year, they moved into a jungle region to expand the ministry from Quito.
"We realized that many of the children in this area had very difficult family situations," said Roberto. "They were not attending school. Children in the sixth grade could not read or write."
Roberto and Charmai took several children into their home as foster kids. They taught them Spanish, English, math, and Bible lessons. After two years, the community began to notice the difference in the children the Davaloses were fostering. The children were healthier, could speak English, and were better educated than other kids in the area.
The community asked Roberto and Charmai to educate their children as well. The Davaloses started a nonprofit called Jungle Kids for Christ to raise money for a school and to find sponsors for the students. In 2012, they founded Antioch Christian Academy.
The school started with a few classes and added a grade each year. Currently, the school includes grades preschool through ninth and educates 160 students. There is also a boarding home for girls who live far away, a farm to help provide for the school, a church, and an outreach to the community.
Short-term teams come from the US each summer and help with projects around the campus and get to know the students. Sponsors in the US help pay the school fees for each student.
"Poverty comes in many forms; it can be spiritual, moral, monetary, or physical," said Roberto. "Usually someone suffers from more than one form of poverty. The people in the jungle region of Ecuador are impoverished in many ways. Children watch their parents and make the same choices, which causes the cycle of poverty to continue. We want the children in this area to be in a right relationship with God. Through providing the kids with a good education and a relationship with Jesus, we can break the stronghold of poverty for future generations."
Antioch Christian Academy is currently in need of additional teachers. If you are interested in serving in Ecuador, or one of the 35 other countries where we work, complete a short interest form. A mobilization coach will be in touch with you.