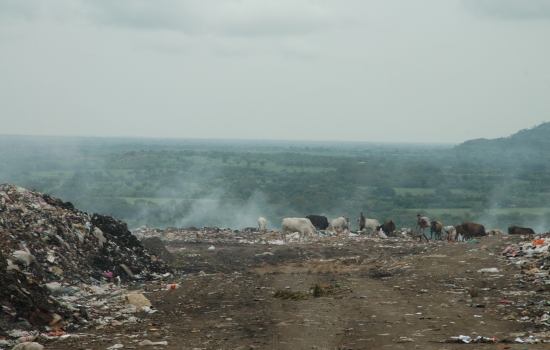 02.11.2014
Ronnie and Angi Hopkins have served with The Mission Society in Nicaragua since 2006. They assisted a group of Nicaraguan pastors to establish a training center which is used for spiritual retreats, conferences and training, as well as to receive short-term mission teams. The Hopkins now work in community development, mostly in remote regions of Nicaragua, helping people in these areas address their needs for health care, economic development, and education for their children.
Angi, a nurse practitioner, shared this story from her experience hosting a medical clinic in a local garbage dump.
It was our last day of clinic at the central dump in Managua. More than 700 people live in this dump and forage among the garbage for scraps of food. They compete with hungry dogs, cattle, and vultures. Fires erupt through natural combustion throughout the dump. The acrid smell of the fires, the sight of the children as well as the elderly rummaging through the garbage alongside the animals…it is a landscape beyond human comprehension.
One of the last patients I saw that day was an elderly gentleman. He had a wound on his leg from a machete accident.
After I treated him, I asked if we might pray for him. He promptly fell to his knees, folded his hands in prayer, and started to pray in Spanish.
The sight of this dear gentleman kneeling and praying to a God that, to me, appeared to have forgotten him was overwhelming. All the emotions I had held in as I saw people living in these conditions overcame me and I started to weep. The man looked up and, seeing my tears, reached into his pocket and took out a handkerchief. He stood up and began to wipe the tears from my face.
I, who was fortunate to live a life of comfort and ease, was being comforted by a man who lived with such suffering. It was an experience I have never forgotten and revealed to me that we are all in need of healing, and we are all called and equipped to be healers to others.
End note: With help from the Spanish government, the garbage dump was recently sealed over and a recycling center and proper housing has been built.