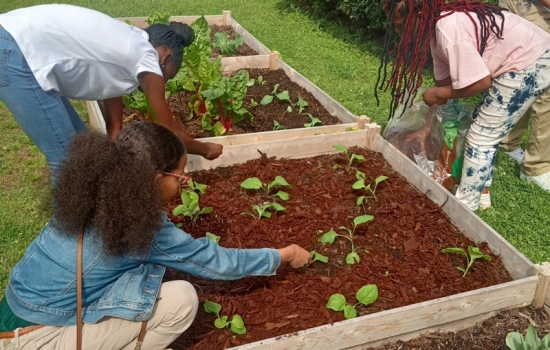 10.25.2023
It's a springtime Monday morning at an elementary school in Selma, Alabama. A group of 5th graders is gathered around a long row of raised garden beds located between two of the school buildings. They assemble square wooden boxes and dump in bags of dirt and mulch. They spread out the dirt with their hands, making space for a variety of plants such as Swiss chard, lettuce, eggplant, and more. Everything gets watered from a yellow plastic watering can. This is all done under the watchful eye of Jennifer Ford, a cross-cultural witness (CCW) with TMS Global.
Cross-cultural witnesses of TMS Global serve in a wide variety of ministries in 28 countries, including the United States. Its work in Selma began four years ago.
Selma is probably best known for the role it played during the civil rights movement in the 1960s. Today, it still struggles with racial inequality, as well as poverty, gun violence, and lack of affordable housing.
Despite these challenges, Ford says greatness is happening in Selma.
Ford lives in Selma and works alongside four other TMS Global CCWs. The team's mission is to walk in unity, to heal the trauma of oppression and blindness through faith in Jesus for abundant life. One way Ford lives out this mission is through gardening at three locations in town, including an elementary school.
Ford says staff and coworkers were skeptical at first. "When I put the garden there, the janitor would come and say, 'What do you know about gardening?' People gave me the side-eye like, 'Is this going to grow?' I could tell people were really suspect of how this was going to go down," Ford says.
But she put the project in God's hands.
"I said, 'Lord, this is where I think it should be. I know people are having doubts. I'm not sure what's going to happen myself.' But it bloomed and it surprised everybody, especially me," Ford says.
The school's principal chose the location so that 5th and 6th grade students could oversee the project and incorporate gardening into their science curriculum. Ford says kids are always trying to find excuses to get out of the classroom. The kids love coming out to the garden, and Ford loves the opportunity to teach them about nature, health, and nutrition.
"This is my way of building relationships with the kids and exposing them to something different," Ford says. "As we are watching the garden grow, I am watching the kids grow."
The garden is also a great place to teach kids how to work out their problems.
Recently, two girls were having an argument in the classroom. Ford saw the girls sitting in the school's front office. She invited them out to work in the garden. There, they were able to sort through their problems in a different environment. By the time they were done in the garden, the girls were walking back to class hugging each other.
"I'm trying to teach the kids how to handle conflict in a healthier way," Ford says. "And the things that they're getting upset about with each other are so small. But if they don't learn how to handle the conflict, it becomes bigger. So the garden is helping with that. It's really growing a lot of things there."
Ford has three gardens in Selma. When Ford decided to grow tomatoes at one of the locations, a friend was skeptical. "The soil is too sandy for them to grow," the friend said. But Ford and a teammate planted tomatoes anyway, and so many grew that they couldn't give them away fast enough.
But in order to get those tomatoes to grow, Ford says she and her teammates, who help oversee the garden, had to cultivate the soil. They had to pull back the surface and find what was underneath.
"It's like the relationships we are cultivating here in Selma," Ford says. "As we pull back the layers, the beauty of people is going to be shown. What lies beneath is going to be shown, what God instilled and put in them that they haven't seen in a long time. What Selma hasn't seen in a long time, it's under that soil. It's inside. It just needs to be cultivated. And that's what the garden is. It's cultivating life, and that's what we're trying to do--cultivate life here."
Ford says some people in Selma are in a settled state of thinking and being. They are so used to the way things are that it's hard for them to see what's possible. But she hopes the garden can help people begin to imagine a different future, one full of beauty and abundant life.