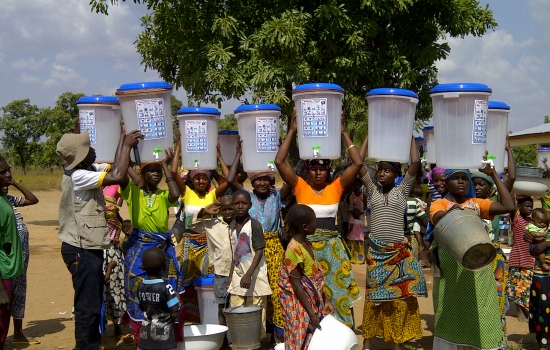 01.08.2014
In November, we shared a story of two missionaries working to bring clean water to the Buiyilli village in northern Ghana.
Friends like you stepped forward and donated the money needed for 58 clay filters. On November 23, Mary Kay Jackson and Jason Von Behren traveled to Buiyilli to deliver the filters and teach the residents how to use them.
Here Mary Kay reports on the day the people of Buiyilli received clean water for the very first time.
"Today was the big day in Buiyilli. The activity started early at the Pure Home Water office, as our staff assembled and prepared to take 58 filters to the village. We picked up Jason and set off for the village.
"After we arrived, the women of the village started to gather. We had asked them to bring soap and basins of water to wash the buckets. We were expecting about 50 women, but many more arrived.
"Two staffers from Pure Home Water did a great job of demonstrating how to clean the filter, assemble it, and how to take care of it properly. The women listened attentively.
"After the demonstration, I gave a message on Psalm 115 and God's love for the village and Jesus the Living Water. I stressed to the villagers that it was not Jason or I that brought the filters to the village, but God who had heard their pleas for safe water to drink.
"I also told them that, just as they will be proud to share the water from these filters with their visitors as a gesture of hospitality, so too they should share the Living Water of Jesus with their friends and visitors. Everyone who drinks the water should know that it comes from a God who loves His people!
"Afterwards, the women collected their filters, cleaned them and got them ready for use. The women of Buiyilli wanted to say a big 'Thank you!' to the donors in Atlanta, Jason, Pure Home Water, and, most of all, to Jesus for the gift of safe water for themselves and their children!
"I don't know the plans God has for Buiyilli, but I do know that amazing things are happening here, as God brings His Light to a formerly dark corner of the planet. I am grateful that I got to be a little part of Buiyilli's story today."