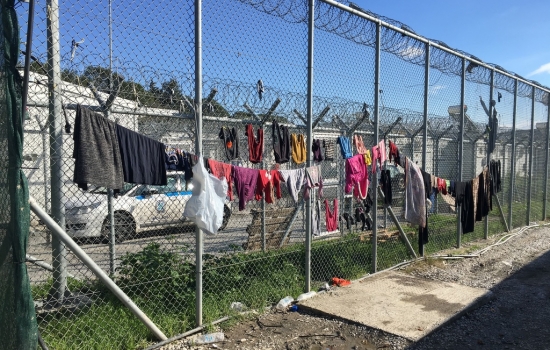 02.22.2018
Charlie and Miki Chastain, along with their three children, serve with TMS Global in Tallinn, Estonia. Charlie works in the arts, and Miki leads healing prayer workshops. The Chastain family has been taking regular trips to refugee camps across Europe since 2015.
In January, Charlie traveled to Moria Refugee Camp in Lesbos, Greece. Refugees arrive by boat and are transported to the camp where they receive a medical exam and are quarantined for a few days in an effort to ensure that new diseases are not introduced into the camp.
Moria is currently housing 4,000 more people than the camp was designed to accommodate. "Conditions have worsened since I was here last," said Charlie. "You can tell that people are more desperate. They don't know if there will be enough food. They are cold, and the psychological and emotional toll of what they have experienced is catching up to them."
People wait in line for hours to receive food. Fights often break out in line as they wait.
One morning, as Charlie helped the other volunteers prepare breakfast, a fight broke out in the distribution line. The police were called in to calm down the situation, which had gotten out of control. With so many people in a very small space, pushing and shoving, the police mistook who was unruly and beat an Afghan man.
"The man was simply in the wrong place at the wrong time. He was doing what he was told, following orders, and waiting his turn. He wasn't part of the problem," said Charlie.
When the incident was over, the police officer was sobbing with regret.
"At the end of breakfast I stood with the beaten Afghan man who was standing by the gate, crying," said Charlie. "All I could do was put my hand on his shoulder and tell him I was sorry and that he will be okay.
"But no one really knows if he will be okay."
Hundreds of children run around the camp throughout the day, many of whom are unaccompanied minors. With no schools and nothing to do, the kids are bored and often end up in trouble. "The children want attention, so they act out to get negative attention. They steal or get into fights," said Charlie. "There is no future for them here."
Human traffickers wait just outside the camp gates.
More than a quarter of the children Charlie saw did not have socks, and the temperatures dipped below freezing at night. The floor of the cafeteria tent had rotted through after years of excessive use. Charlie's friends and supporters donated money and he was able to purchase socks for many of the children, as well as a new floor for the eating area. "We can't solve so many of the issues related to the refugee crisis," said Charlie, "but anything we can do to improve their lives really does make a difference."
Each time a truck arrives with new refugees, inhabitants flock to the front entrance to see if they can find lost family members.
As Charlie passed by the camp gate one morning, a truck transporting refugees arrived at Moria. A man near Charlie started smiling and waving crazily at someone he recognized. The man said, "That is my brother! I thought he was dead!"
Even in the darkest of places, there is hope.
Despite the complexities and emotional toll that comes with serving refugees, Charlie and Miki desire to show the self-giving love of Jesus to people who have lost nearly everything. Their family is making plans to move from Tallinn closer to the camps so they can volunteer more often.
"None of us is able, nor are we called, to help every one of the thousands of refugees coming into Europe," said Miki. "Instead, we are each called to serve faithfully those individuals whom God brings into our lives.
"When God calls individuals to one another in the midst of crisis, His work of healing, reconciliation, and transformation flows in every way, to everyone involved. We are asking God to provide abundant humility, discernment, courage, and peace as He reveals His plan for our family."