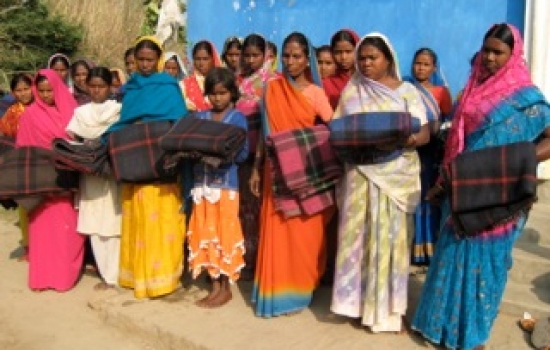 11.19.2013
Winter brings severely cold weather to the people of northern India. Many families have only one blanket to share among all of their children and, unfortunately, many families do not have a blanket at all.
A small act of kindness – such as providing a warm blanket – can be a powerful blessing and show God's love in a practical way.
Peter and Esther Pereira live in Hyderabad, India where they work with Hope for Today, a ministry founded by them. The Pereiras are involved in church-planting, leadership training seminars, evangelistic campaigns, and preaching and teaching within the churches. In addition, they also work with women and children through the Alpha Schools and Homes, a vocational training center, medical camps, and a nutritional feeding program.
The Pereiras are raising money to provide 3,000 people in northern India with blankets this December. Many of the people in northern India are considered least reached or unreached.
One of the pastors with which the Pereiras work recounted this story from a woman who received a blanket last December.
"I live in a mountainous area in North India where it gets very cold in the winter. Last year, Hope for Today supporters donated blankets which we gave out to the elderly. When we distribute these blankets, we also tell them about the birth of Jesus and the entire salvation story.
"One woman gave her testimony that day. She was Hindu and worshiped many gods. She had been married and barren for seven years. She and her husband prayed and made many sacrifices to the god of fertility, but she was still barren.
"When she was given the blanket and told about the one true God who loved her, she became a believer. As she told her story, she stood before us, pregnant. She tells everyone how God changed her life. Now she attends a house church in her area, has recently started a Sunday school class for 15 children, and is very faithful.
"Although she is no longer accepted in her mother's home, she has faith that God will eventually break down those barriers as well."
Each blanket only costs $10.00 and will be delivered to a needy family this winter.
Thank you for showing God's love to some of India's least reached through a tangible act of compassion this Christmas!