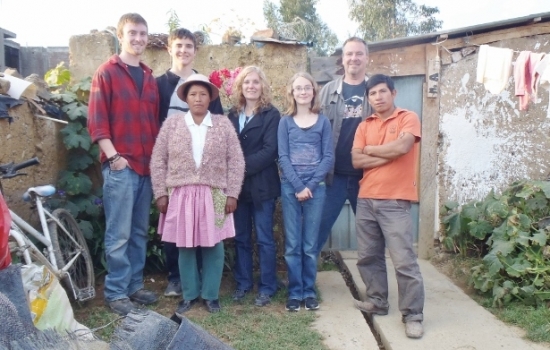 02.12.2019
Salvador was a teenager when he gave his life to Jesus. He led his parents to the Lord and knew that he wanted to serve in ministry.
At that time in Peru, all males were required to serve for two years in the military after graduating from high school. The Shining Path terrorist group was very active in Peru then, and Salvador was sent to a mountain area that had many terrorists.
Salvador led some of his fellow soldiers to Christ and discipled them as they grew in faith. After leaving the military, Salvador began to pastor a church in a mountain area that had terrorist activity. The Shining Path did not like Christians, and decided to murder the pastor of a nearby church in front of the congregation. Although they had been tipped off about the attack, the congregation decided not to flee. They stayed and began to pray for the pastor's protection.
The terrorists entered the church and demanded to know where the pastor was. They hit some members of the congregation with the butts of their guns to make them talk, but everyone just kept praying. The entire time, the pastor was standing in front of the congregation, but the terrorists did not see him. They eventually left the church.
Years later, Salvador married and began to work on his family farm. His wife, who was eight months pregnant at the time, and his two-year-old daughter were traveling with Salvador's father and some neighbors late one night. Their van veered off the steep mountain road. It was a terrible accident. Salvador's father and neighbors were killed. Salvador's unborn daughter was killed, and his wife was in critical condition. His two-year-old daughter was found in a tree with serious injuries.
Passersby saw the wrecked van and put Salvador's wife and daughter into their car and drove many hours to a hospital in Huancayo. When Salvador learned about the wreck, he rode a horse two hours to the accident site and moved his father's body to the side of the road. Then he kept riding until he reached Huancayo.
Salvador found a small house in Huancayo and got a job so he could be close to his wife, who had to stay in the hospital for months. He would walk for hours to a potato farm, work nine hours each day, and then walk back home, earning $10.00 each day. He sold all of his cows and chickens to help pay the medical bills. Salvador's wife and daughter both eventually recovered.
Salvador met TMS Global workers Tim and Jennifer Goshorn, who serve in Huancayo. They began to work together, traveling deep into the jungle, which is still an active terrorist area. In these areas, they share the gospel and coordinate short-term medical teams. Tim and Salvador lead discipleship groups for people who have come to faith in the mountain region.
"I am thankful the Lord put this humble man in my life," said Tim. "I have learned so much from him about faith and joy."
Next steps:
Pray for Salvador and the Goshorns as they minister to people in Peru.
Pray for the least-reached people in the jungle regions of Peru.
Pray for the Holy Spirit to protect these workers and help them to be effective as they share the gospel.