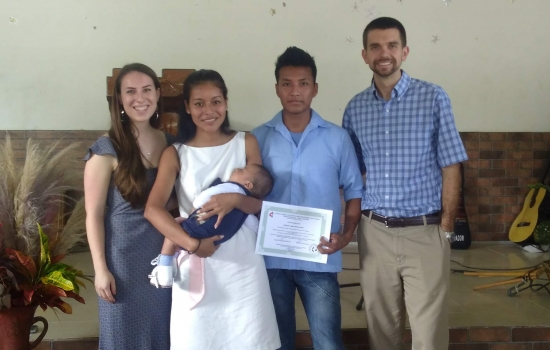 09.23.2019
Jadyra was eight years old when Tyler and Kaylan first met her in the jungle of Ecuador. Jadyra's mother could not care for her child, so Jadyra was fostered by a Christian couple. The couple fostered six children and later started Jungle Kids for Christ, a ministry designed to empower children in the jungle of Ecuador to break the cycle of poverty and abuse.
Tyler and Kaylan were in high school when they began taking yearly short-term mission trips to serve at Jungle Kids for Christ. They and several other team members decided to sponsor Jadyra through the organization's child sponsorship program. Each year the team returned and continued to build relationships with Jadyra and the other students. Over time, they watched Jadyra grow up and were even able to be part of her baptism one summer.
Tyler and Kaylan began dating and were married in 2016. In 2017, Tyler and Kaylan moved to Ecuador to serve as cross-cultural workers with TMS Global at Jungle Kids for Christ. Kaylan teaches math to sixth- through eighth-grade students at Antioch Christian School, and Tyler coordinates short-term mission teams and serves as the director of marketing for the organization.
Tyler and Kaylan continued to invest in Jadyra's life and serve as mentors and godparents to her after they moved to Ecuador. During Jadyra's senior year of high school, she made the decision to move off campus and live with her boyfriend, Santiago, and her biological mother. Several months later, Jadyra became pregnant.
Although Jadrya followed Jesus and was involved in church, Santiago was very closed to attending church or having a relationship with Jesus. Tyler and Kaylan stayed involved in the couple's lives, and Tyler shared the gospel with Santiago many times. Santiago became close friends with Tyler and confided in him about relationship issues and why he did not want to attend church. Santiago even decided to name their son Tyler James after Tyler.
Over the next few months, the young couple's relationship became strained, and Jadyra and Santiago broke up. Jadyra and James moved in with Tyler and Kaylan. Tyler and Kaylan mentored Jadyra through this difficult time. "I continued to encourage Jadyra that she is loved by God, us, and her family," said Kaylan. "We kept walking with her as she sought the Lord and His will for her life."
Tyler, Kaylan, Jadyra, and James had settled into their new life when Santiago asked to talk to Tyler. They spent hours talking, and Santiago made the decision to follow Jesus!
Since then, Santiago has been regularly attending church, and Tyler is mentoring Santiago in his new faith. Jadyra was able to finish high school and graduate. The couple dedicated their son to the Lord in church with their friends and family present.
"We just know that the Lord is doing and will continue to do wonderful things in their lives," said Kaylan. "We will continue to pour into all three of them as the Lord allows."
Next steps:
Pray for Tyler and Kaylan as they serve in Ecuador.
Pray for Santiago, Jadyra, and James as they grow in faith.
If you are interested in mentoring vulnerable youth in Ecuador or one of our other 35 fields, complete a short form. A mobilization coach will be in touch with you.