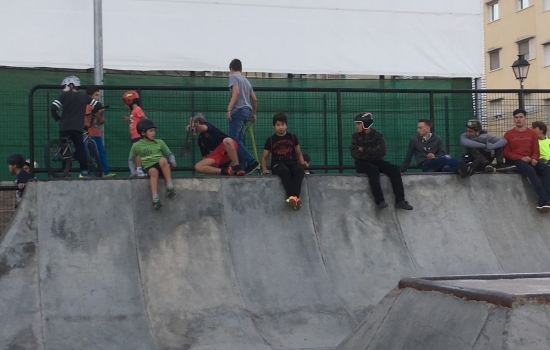 11.13.2018
Years before Axel and Delilah met, they each knew that God was calling them to serve as cross-cultural workers. Originally from Puerto Rico, Axel and Delilah both participated in numerous short-term mission trips which spurred their interest in serving overseas.
"A fire began to burn inside of me," said Axel after his first trip to Peru. He participated in several other short-term mission teams and attended Urbana Student Missions Conference. "I knew deep in my heart that the Lord was calling me to serve Him."
Delilah had served on several short-term mission teams and was teaching at Bethany Fellowship School of Missions. After her first trip to Spain, Delilah remembers standing in the airport and praying, "God, bring me here again. Here I am, eager to serve in this country."
The Lord did lead her back to Spain.
Axel and Delilah met at Bethany and were married in 2003. In 2013, they moved with their two children to Spain. Although it was the culmination of years of prayers and dreams about ministering in this place, it was a very difficult year for their family.
"Our son asked to go home every day. He was bullied at school and did not have any friends. It was a very tough year," said Delilah.
God sustained their family during that time and led them to meet other cross-cultural workers serving in Spain. Over time, their situation improved. Their son, now 13 years old, said, "I know God wants us here."
Axel and Delilah began a ministry at the local skate park. "Most of the youth in Spain do not go to church. We hang out at the skate park with our children and get to know these neighborhood kids," said Axel. "Over time, they have come to trust us. They know we are not Catholic, so they ask what we believe and we tell them. We get to talk about Jesus and His love for them. They hang out at our house often. When they have problems, they come to us."
Many of the youth at the skate park have dropped out of school and have troubled families. "They need to be heard," said Axel. "They need someone who is interested in their lives and will love them without judging them."
Axel and Delilah have hosted a camp for Spanish children and youth. Forty-two kids attended one year, and 60 kids the next. The kids engage in activities such as crafts, theatre, dancing and choreography, sports, and workshops about values. Through all of these activities, Axel and Delilah get to know the children in their community and what they need.
"The Lord is doing beautiful things, and we just want to serve," said Axel.
Next steps:
If you are interested in serving cross culturally, complete a short form and a mobilization coach will be in touch.
Pray for vulnerable youth in Spain. Pray for Axel and Delilah as they reach out to these youth with the love of Jesus.