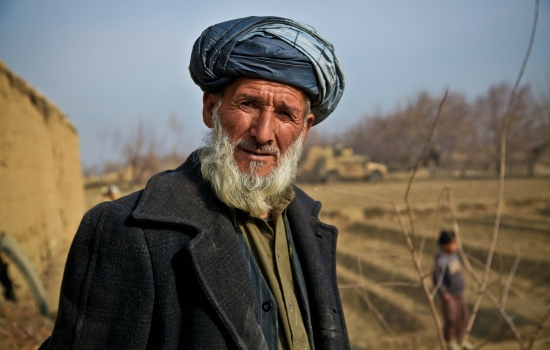 11.16.2021
When the Taliban took over Afghanistan following the departure of the US military in August, various news outlets depicted a bleak picture for those who live in the country. We wanted to learn more about what the situation was like on the ground and how we could better pray for Afghan people. So we reached out to two cross-cultural workers with connections in Afghanistan. Bill and Sue Smith* served in Afghanistan several years ago. In their current US-based role, they connect regularly with cross-cultural workers who up until recently were living in Afghanistan.
The Smiths say the situation in Afghanistan is complex. Some places in the country are bewildering and chaotic, Bill says. In other places, based on reports he's getting, life is carrying on fairly normally.
Afghan Christians are under more pressure now that the Taliban is in control, Bill says. He says some believers will suffer, and some will die. But he says many will quietly carry on, meeting in small house churches, accessing resources via the internet, radio, or cell phone.
The Smiths say it's important for Christians in the United States to pray for protection and boldness for believers in Afghanistan and to pray for refugees who are arriving in the US and other places. They ask for prayer for Christian workers who have had to leave the country. They also encourage people to pray for the Taliban, that members would come to know the Lord or be restrained from doing evil.
While it's important for US believers to stay aware so they can be concerned and pray, Sue encourages people to not consume so much news--that they're constantly weighed down and depressed by it.
Bill says this is a time for the American church to faithfully continue in prayer.
"I guess we're optimists at heart because of Jesus," Bill says. "Let's keep loving, let's keep serving, keep praying. Let's not be fearful. Jesus is still Lord. We still have lots of work to do in the kingdom. Let's keep going."
One way that people in the United States can serve Afghan people, the Smiths say, is to care for those who are arriving in the country as refugees. There are a variety of ways to build relationships with people: through English lessons, driving lessons, or job training, or by helping people navigate schools or healthcare systems.
Bill says he realizes the problems portrayed on the news, both at home and abroad, are very real. But he says it's important to remember that there is still kingdom work happening.
"We need more workers," Bill says. "We need more people going to the hard places. We need more people praying and giving. So we hope this will be a clarion call to the American church: rise up, wake up, stop being distracted by the news, and let's get on with it."
Bill speaks of God as a master chess player. Even when the board looks chaotic, and it looks like God is losing, He's still got a move, and He's still in control. Bill encourages believers to see events in light of the entire biblical revelation. God is still working out His purposes. And eventually, people of every tribe, tongue, and nation will gather around the throne, praising God, including Afghan believers.
"I look forward to that," Bill says. "These people you've prayed for will be in Heaven, and they'll add to the rich tapestry of praise around the throne. Wow, that's exciting!"
*Pseudonyms are used for security reasons.