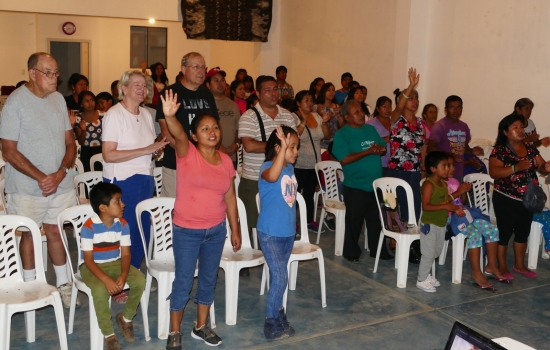 07.29.2019
As followers of Jesus, we pray for the Holy Spirit to work in and around us, but how often do we actually expect the Holy Spirit to show up? One short-term mission team traveled from Virginia to Peru to minister with TMS Global workers and experienced an outpouring of the Holy Spirit that they never imagined.
Martin and Tracy Reeves and their children have served in Trujillo, Peru for 15 years. They started discipleship groups, several of which grew into house churches. One church grew to the point at which members were able to construct a building el Milagro, the poorest barrio of Trujillo.
Each week, more than 100 children, youth, and adults gather for worship in el Milagro Church. The Reeves and their Peruvian leaders coordinated the construction of a Christian Family Development Center that is attached to the church. The Center offers Christian counseling, assistance for abused women and children, tutoring, and a safe place for children to play. There is also an active sewing ministry that trains women how to sell their products in order to support their families. A computer center will open later this year, and a medical lab will open next year.
A short-term mission team from Pender United Methodist Church in Fairfax, Virginia traveled to Trujillo in January 2019. The team had served in Trujillo many times before and had established relationships with many of the Peruvian church members.
The team assisted with some construction on the church, helped prepare for the church's VBS, and taught a leadership development workshop. Suzanne Spencer, a former pastor, offered a workshop for women, preached, and taught about stress management for ministry leaders. The team also led Activate, TMS Global's mission training program designed to equip churches to reach out to their neighbors, country, and the world with the gospel.
"We had worked hard to bring well-developed programs to Peru," said Suzanne, "but we were not expecting what the Holy Spirit was about to do."
As team member Julian Cole was leading the Activate workshop, he heard the Holy Spirit say, "Julian, you stand here, and I am going to speak through you." Instead of closely following the curriculum, Julian shared an experience from his time in the Vietnam War. One night, Julian and his troop were surrounded by a Vietcong regiment. Julian and his fellow soldiers hid in the bushes all night, terrified that they would be found. Back home, Julian's friends were prompted to pray for him at that exact time. The next morning the soldiers found that the Vietcong had left, and Julian and his friends were safe.
That experience forever changed Julian's perspective on prayer. As he shared about the power of prayer with the Peruvian congregation, the Holy Spirit moved among the group. "The sense of the Holy Spirit's presence was strong," said Suzanne. "The room was alive and full of excitement."
The congregation began to talk about the ways they could reach out to others with the love and message of Jesus. Pastor Guzman is a retired pastor who served in a nearby town. He attended the workshop that night and listened as the church began to explore ways to share the gospel in unreached areas.
Pastor Guzman stood up and shared with the congregation about the unreached people groups in the jungles of Peru. The pastor travels to minister to the Aguaruna Indians and invited anyone from el Milagro to join him in sharing the gospel with the Aguarunas.
In the following days, the team from Virginia was able to walk with the congregation as they explored new ideas for ministries. "Frequently, short-term mission teams plant seeds and leave for home never seeing those seeds sprout," said Suzanne. "On this trip the team witnessed not just sprouts, but amazing fruit!"
Celinda, a church member, felt led to start a children's ministry for the community. Fathers are often absent, and mothers work long hours to support their children. Elementary-aged children are left to care for infants and toddlers by themselves all day. Celinda planned to start a daycare at the church in order to care for children who are alone all day, and she would use her time with the children to teach them about Jesus.
Several young women approached Suzanne and shared with her that they felt led to serve as pastors. One of the women, a teacher, has already enrolled in seminary and started classes.
Church members also began to meet and make plans for ways they could share the message of Jesus in their neighborhood, region, and around the world. "The local church was quickly moving from a receiving mission church to a sending mission church," said Suzanne. "Seeing the Holy Spirit filling and leading our friends in Trujillo brought the team blessings beyond measure."
If you are interested in serving in Peru, or one of the other 34 countries in which we work, complete this short form. A mobilization coach will be in touch with you.