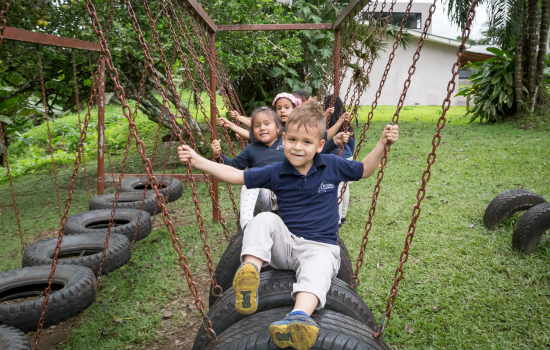 07.27.2022
Life in the Amazon Rainforest sounds like birds calling to one another, monkeys chirping in the trees, and rain pounding on a tin roof.
In Puerto Misahualli, Ecuador, it also sounds like kids at recess.
A group of children in school uniforms is gathered on playground equipment made largely out of tires. The scene takes place in a clearing framed by trees. Some of the kids are lined up, playing a game of rock, paper, scissors with a young woman. She's a volunteer on a short-term mission trip, one of many who will serve here, at Jungle Kids for Christ, this summer.
Jungle Kids for Christ sits on the western edge of the Amazon Rainforest. Through sharing God's love, the ministry aims to empower children for God's glory. As a result, cycles of poverty and abuse are broken, and children spread the transforming message of Jesus to their families, communities, and beyond. It's home to a Christian K through 12 school, a student resident home, and a basketball club. It's also home to TMS Global cross-cultural witnesses, or CCWs, Tyler and Kaylan Foster and their son, Bryan.
Tyler Foster is the director of marketing and the short-term team coordinator for the ministry.
"Pre-pandemic we were hosting around 20 teams a year," Foster says. "Right now we're at around 10 to 15 teams coming out of the pandemic. We host a wide variety of teams. The majority that come from churches are either high school or adult led."
Foster handles logistics for the teams -- things like transportation, food, and housing. He also communicates with the team and the ministry on the ground to make sure everything is prepared for the visit. For example, he works with the ministry's construction coordinator, academic director, and others to plan projects for the team.
"It's basically facilitating that experience," Foster says, "giving them a safe place where they can come and serve and be exposed to missions, and also be able to make an impact where they're serving for that week."
In recent years there's been some question as to whether or not short-term mission teams actually do make an impact where they serve. For example, in the book When Helping Hurts, Steve Corbett and Brian Fikkert make the case that if not done carefully, short-term missions can cause harm to the very communities that teams intend to help.
Foster is aware of the issues that can arise when short-term mission trips are not done carefully. He says that's why he and his coworkers are very intentional and pay attention to what is actually helpful for the ministry.
"There's a reason behind everything that we do," Foster says. "If the mission on the ground doesn't see value in teams, they shouldn't be hosting teams, in my opinion. But if you can see value in teams and you're intentional about what their experience looks like, intentional about how it is benefiting the ministry, then it can grow and it can really do wonders."
Part of being intentional means assessing the skills of each short-term team that visits. For example, a group of high schoolers might not be the best choice for a complex building project. But if the ministry is working on a new classroom, teenagers can help by shoveling sand and rock to make concrete.
When leaders at Jungle Kids for Christ are designing a short-term mission trip, Foster says they have three main goals. First, they want to make sure the visiting team is growing in some way.
"They're experiencing the country, they get to know the culture, they get to see the ways in which the Lord is moving in our particular area," Foster says. "So they're seeing that growth among themselves. And there's a debrief time that we provide for them that they have the opportunity to do as a team."
Second, Foster says, the people the teams are serving should experience growth, too.
"Whether that's the students in the classroom, if that's kids in the community, if that's the basketball program, whatever portion," Foster says. "And the school is being grown at the same time from a construction perspective."
Foster says if those two things are working, then the kingdom of God should be growing as well.
"We're very clear with our teams that it may or may not be a revival when you're here," Foster says. "But when you're coming alongside a ministry that's already doing great work every single day, you're just adding encouragement and contributing to that, ultimately the kingdom of God is growing."
Foster says he and the other leaders at Jungle Kids for Christ are constantly evaluating the program and looking for ways to grow and improve the short-term mission team experience. They want to make sure that it is beneficial for the community it's meant to serve.
"The best example that I have for that is probably four or five years ago, we were consistently doing what I call VBS style programs with our kids on campus that were in school," Foster says. "The programs are great, they're fun, they're energetic. But at the end of the day, we realized after doing this for three or four or five years that it was basically entertaining kids. They heard all the stories before, they sang all the songs before. It was just another group of Americans coming down to sing us the same songs. So we learned that, and then we ended up pivoting what our program looks like. Now we focus more on STEM (science, technology, engineering, and math) related projects."
Volunteers work with the school's regular teachers ahead of time so that they can plan math and science projects that fit in with what students are already learning in class.
"We are able to use our teams as a way to strengthen some of the things going on in the classroom and to give our students a different perspective. And the collaboration in general is just huge for our students," Foster says.
Foster notes that teams should ask what they can do to help and defer to local leadership. He says it's best when teams can come alongside long-term workers and support what the ministry is already doing.
Outside his office at Jungle kids for Christ, Foster can hear monkeys chirping away in the trees. He says his favorite part about his job is that he has the privilege of inviting people into God's ministry in the jungle of Ecuador.
To support the Fosters and their work at Jungle Kids for Christ, visit our give page and in the "give to a worker" box use the Foster's number, 3099SUP. For more information, email Tyler Foster at tyler.foster@tms-global.org
We're excited to introduce our short-term mission manual. If you are leading or participating on a team, this book is an invaluable resource for you. TMS Global cross-cultural witnesses share their wisdom and advice to help you better understand all that God can do in and through you on your short-term trip.