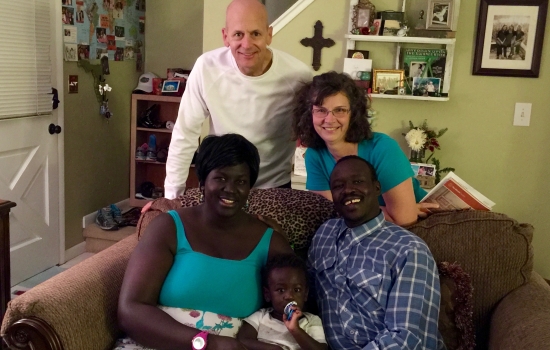 03.15.2016
When the Rev. Dr. Denny Heiberg, a Mission Society missionary, started discipling men in the church he was pastoring in Florida, he never imagined his investment would impact a man who was one of the original "Lost Boys of Sudan."
Heiberg took a group of 21 men from his congregation and began discipling them on a weekly basis. (You can read more of Heiberg's story here.) After several years, Heiberg resigned as senior pastor of Grace at Fort Clarke United Methodist Church and joined The Mission Society so he could continue focusing on discipleship as a full-time vocation.
One of the men Heiberg discipled for his last two and a half years at Grace Church, Bruce, began discipling other men, one of whom was a man named Jacob Atem.
Jacob's life story is filled with war, tragedy, violence, and rescue. He lived a life that most of us have only read about in headlines. Jacob was one of the original "Lost Boys of Sudan."
When Jacob was only six years old, his village was attacked by North Sudanese Arab militia. Jacob's parents were murdered. "The militia entered my village, killing men and kidnapping the women and children before burning our homes to the ground," remembers Jacob. His sister and niece were carried away as slaves.
Earlier that morning, Jacob and his cousin, Michael, had taken the family's goats and cows to find grass and water. When they saw the smoke coming from their village, the boys ran into the forest and hid. "For three days we remained in that forest alone, scared, and hungry," said Jacob.
Jacob, Michael, and other boys who escaped the village began a thousand-mile journey across Africa. Often hiding during the day and walking at night, the boys were constantly on the lookout for lions and northern forces.
One night, while Jacob was sleeping, a lion attacked their group. Michael woke Jacob and told him to run. In the black of night, Jacob ran into a broken tree limb, which penetrated his leg to the bone. "There was no hospital, no first aid kit, but there was Michael, and he helped me until my leg healed," said Jacob.
Jacob gave his life to Christ during his journey across Africa.
Eventually, Jacob and Michael made it to Kakuma Refugee Camp in Kenya. They lived there for nine years. "It was difficult to process all that I had seen and experienced and still believe that God was good. I asked God 'why' a lot as I faced suffering and saw such injustice. I finally came to the point of understanding that God is omnipotent and I am not. I know that He had mercy on me and saved me for a reason," said Jacob.
In 2001, Jacob and Michael were sent to the United States. Jacob was sent to live with a foster family in Michigan, and Michael was placed in Nevada with other Lost Boys.
Jacob graduated from Webberville High School and decided to attend Spring Arbor University. "I really grew in my relationship with the Lord during that time," he said.
Jacob then earned a Master of Public Health degree at Michigan State University. He is currently pursuing a PhD in Environmental and Global Health at the University of Florida.
While in Florida, Jacob began attending Grace at Fort Clarke United Methodist Church, and Jacob got involved in a men's discipleship group called "Java Church." Jacob meets with Bruce at 6:00 am each Friday at a local Starbucks. "We think critically about the Bible and how it applies to our daily lives," said Jacob. "I believe you have to live your faith. We help one another address the sins in our lives and strive to be more Christ-like each day."
"Ever since I arrived in the United States 15 years ago, Luke 12:48 has been stuck in my head," said Jacob. "'From everyone who has been given much, much will be demanded; and from the one who has been entrusted with much, much more will be asked.' I was given much when my life was spared. I want to give back to God. I am doing my PhD on the risk factors for enteric infections in children under five years old in Kakuma Refugee Camp. It would be a great honor to help these children, who are just like I was, and to be able to give back to the community that did so much for me," said Jacob.
Jacob and another "Lost Boy" from Sudan, Lual Awan, started the Southern Sudan Health Care Organization (SSHCO) in South Sudan in 2008. They opened a clinic in their home village of Maar, which treats as many as 10,000 people each month.
Jacob's dream is to see peace in South Sudan, a country which is still consumed with violence and unrest. To learn more about SSHCO, visit their website.
When Heiberg began to intentionally pour his life of faith into a group of men in discipling relationships, he could have never imagined the results of his initial investment. He is seeing 2 Timothy 2:2 come to life as people receive the treasure of the gospel.
"And the things you have heard me say in the presence of many witnesses entrust to reliable people who will also be qualified to teach others." – 2 Timothy 2:2 (NIV)
The Rev. Denny and Cindy Heiberg are ministry resource consultants with The Mission Society. They come alongside pastors and church leaders to assist them with practical training to mobilize their churches to become disciple-making congregations.
Photo: Back row: Denny and Cindy Heiberg. Front row: Linda, Samuel, and Jacob Atem.