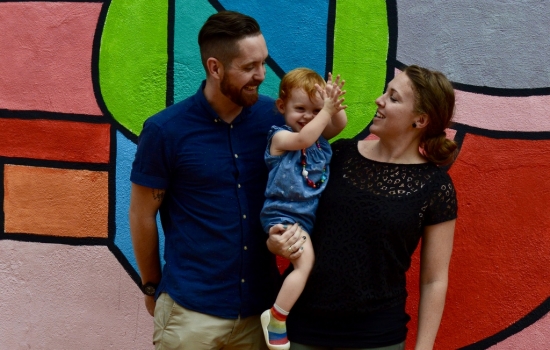 03.26.2018
Raised in a Buddhist home in Thailand, Kiet* explored Christianity and attended church as a teenager. "I considered myself a Christian at the time," said Kiet, "but I had so many unanswered questions. There was no one to help me understand the Christian faith, so I decided to return to Buddhism."
Years later, TMS Global cross-cultural workers Josh and Bekah Hilts met Kiet in a coffee shop in Bangkok. Kiet works as a freelance graphic designer. He is married to Suda* and they have a young son. Josh and Bekah previously served with an outreach to vulnerable and at-risk young adults, many of whom have been exploited by the sex trade industry.
"Josh and I connected with Kiet and Suda right away," said Bekah. The Hilts began intentionally spending time with their new friends. When Kiet discovered that Josh and Bekah follow Jesus, Kiet told them about his former faith.
Kiet asked Josh and Bekah if they would teach him more about Jesus; in return, he would explain his Buddhist beliefs to them. Over the past two years, the two young families have shared their lives and faith with one another.
Several months ago, Kiet and Suda had a daughter and were very excited to expand their family. However, just three weeks later, Kiet's father suddenly passed away.
"In Thai culture," Bekah said, "Buddhists seek to experience joy and try very hard to avoid suffering. This mixture of joy and sorrow caused our friends to ask some difficult questions about life and death."
Buddhist funerals typically last for one week. For the first six days, the family of the deceased visits the temple and makes merit for the person. The family participates in chants and donates money to the temple, all in an effort to bring good fortune to the deceased in the afterlife. On the seventh day, the person is cremated in the temple.
"There is so much uncertainty for Thai people when they pass away," said Kiet as he talked with Josh and Bekah. "We are not sure whether or not these traditions help our family members become reincarnated into something better in the next life."
Josh and Bekah asked the Holy Spirit to use them to comfort their friends in their time of sorrow. The Hilts stayed with Kiet and Suda all week, helping to plan the funeral and simply spending time with their mourning friends. At the end of the week, Kiet said, "You two are the only friends who came to be with me during this time of suffering, and you were the only ones who came to my father's funeral."
"We have learned that, in the Thai culture, being present with people during their suffering speaks deeply to their hearts and gives way to good conversations," said Bekah. "We are grateful that our presence ministered to Kiet, and gave us opportunities to talk about the hope of Jesus."
Since the funeral, Kiet and Suda have asked more questions about Jesus each time they see Josh and Bekah. Bekah said, "We trust that the Spirit is moving gently in their hearts!"
*Pseudonyms