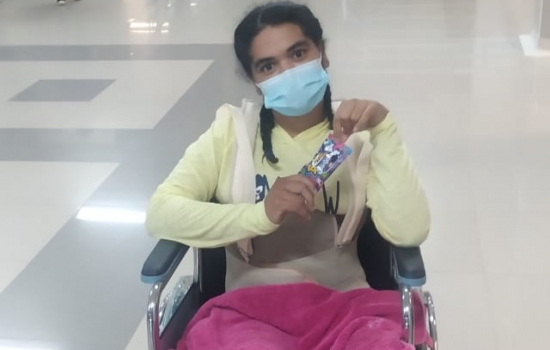 04.22.2021
Ruben* and Jimena* had a good life in Venezuela. The young couple was newly married, and Ruben had a stable job working on heavy machinery in the mines. As the economy in Venezuela collapsed, the couple found it harder and harder to survive.
They fled to Peru and completed all of the paperwork necessary to stay in the country. Because of the large numbers of Venezuelans moving to Peru, there is not enough work for everyone. The pandemic and extensive lockdown in Peru over the past year only worsened the situation for so many people, like Jimena and Ruben, who struggle to make ends meet.
One day while Jimena and Ruben were looking for work, the car they were traveling in veered off the road and rolled down a mountainside. Ruben was thrown from the car, but Jimena suffered a broken back and legs. She needed surgery right away.
In Peru, patients must pay for all surgery expenses before any operations can be performed. Jimena and Ruben had no money, and Jimena was in terrible pain.
Tim and Jennifer Goshorn live and serve in Huancayo, Peru with TMS Global. Throughout the pandemic and lockdown, this couple has tirelessly delivered food to people in need. Tim and Jennifer found out about Jimena's situation and paid for the surgery. "It is because of your generosity that we were able to help her," said Tim. "When we gave Ruben the money, he teared up and said Jimena would be crippled if not for your help."
Jimena had two surgeries, one on her back and another on her legs. Afterwards, she could not feel or move her legs, and she was told she would never walk again. The Goshorns asked their supporters to pray for Jimena. Days later, another doctor examined her and told her that the original surgeries were not performed correctly. He offered to operate on Jimena at no charge.
Jimena had a third surgery and came through the operation. Almost immediately she had feeling in her legs. After a year of physical therapy, she should be able to walk again.
Tim said, "Jimena's faith in Jesus has grown as she has witnessed and felt the power of prayer." She messaged Tim and Jennifer, saying, "I have no words to thank God first and then you for the support you have given me. Thank you."
*Names changed
Prayer requests:
Pray for Jimena as she heals. Pray that she will be able to walk again.
Pray for all of the Peruvians and Venezuelans who are in Peru and need to find work to support themselves and their families.
Pray for the Goshorns as they help people make ends meet during this time and share the love and message of Jesus as they meet with people.