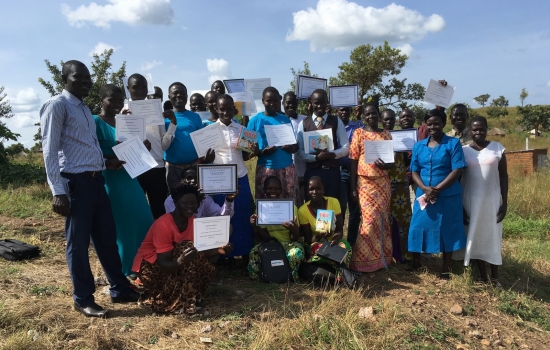 01.23.2020
Grace had a good life in Yei, South Sudan. She lived with both parents, had plenty of food, and had a nice home. She attended a good school and loved to learn.
In November 2017, the war in South Sudan came very close to Grace's family's house, and they were forced to evacuate. They left on foot, bringing only what they could carry. Grace ran out of her home barefoot, leaving behind all of her childhood possessions. Her family hid in the bush and traveled off the main roads until they came to the border of Uganda.
Grace's family has been living in a refugee camp for more than two years. Their large family now lives in a small mud house and sleeps on mats on the rocky ground. Refugee families are usually not hired for jobs, so Grace's parents cannot work to supplement the small rations of food they are given. Grace and her siblings are often hungry. She now attends an UNHCR school that has 150-200 students in one room. Students are given a small notebook, but no textbooks are available in the refugee camps.
Carolyn Goodwin is a TMS Global cross-cultural worker who was serving in South Sudan when the war broke out. After several months, her team decided to evacuate and crossed into Uganda an hour before the border was closed. She now resides in Uganda and ministers in the refugee camps and through local churches.
After receiving trauma counseling training and preparing her own curriculum, Carolyn began offering trauma healing workshops to refugees. She has been teaching these workshops since January 2017. Carolyn said, "The workshop is based on the promise in Psalm 46:1, NIV, 'God is our refuge and strength, an ever-present help in trouble.'"
Carolyn was concerned about the trauma the South Sudanese children had suffered. She began to equip people in local churches to teach the "Healing Children's Wounds of Trauma" curriculum to children during Sunday school. Carolyn divided the curriculum into 10 lessons. Seven churches taught the trauma workshop to the children in their congregations.
Last November, Carolyn held a celebration for the churches that taught the trauma healing Sunday school classes. They celebrated with cake, and Grace gave her testimony. "Grace said that the trauma healing Sunday school classes have helped her so much with her sadness," said Carolyn. "She is very happy that she can take what she learned in Sunday school and share it with her family. She brings the papers to them each week and tells them what she learned. Trauma healing classes have helped many refugees to rely on Jesus day by day and help one another when they can."
Life changed drastically for Grace's family, and for so many families impacted by the war. "No one knows what the future holds," said Carolyn, "but I believe true healing can only come from Jesus. He can mend our broken hearts."
Next steps:
Pray for Carolyn and for the Sunday school teachers who are leading the trauma healing classes.
Pray for the more than 70 million refugees worldwide who have been displaced from their homes.
Pray for people serving in refugee camps and ministering to people who have lost so much.