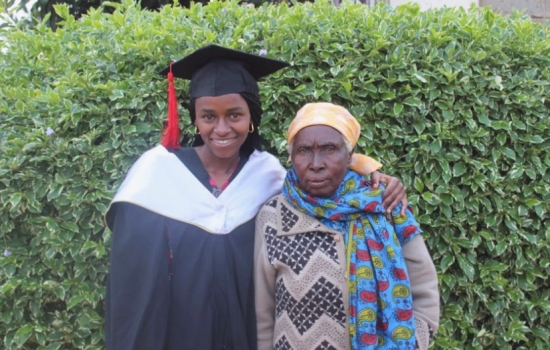 05.18.2020
Florence was the second of five children born to her parents in a village in Kenya. When her parents passed away, Florence and her four siblings went to live with their grandmother. Their grandmother was a peasant farmer, and she was unable to provide food for the children and earn enough money for their school fees.
Florence was 14 years old and attending primary school at the time. A teacher in Florence's school knew of her situation and referred her to Home of the Good Shepherd. Home of the Good Shepherd is a children's home founded by Kenyan pastor Simon Thou Mwaura and his wife, Lucy. The home is the residence for more than 65 children near Nyahururu, Kenya. Most of the children residing at the home have been orphaned due to HIV/AIDS, tribal clashes, and other factors.
Pastor Mwaura partners with TMS Global to care for orphans and coordinate outreach to least-reached people groups across Kenya.
Florence moved into Home of the Good Shepherd, and sponsors provided the school fees necessary for her to continue her education. From an early age, Florence wanted to become a nurse, and she excelled in school. She graduated in 2014 and was accepted to Mount Kenya University. There she pursued a Bachelor of Science in nursing and graduated with honors.
Florence now serves as a nurse at Nakuru County Hospital. She is happily married, and she and her husband just welcomed their first child. "Praise God that Florence has realized her dream of being a nurse," said Pastor Mwaura. "We thank the Almighty God for making Florence successful and making her a mentor and source of inspiration for other children at Home of the Good Shepherd."
Your support enables orphans and other vulnerable children to receive the care they deserve. Home of the Good Shepherd not only provides a home, food, and school fees for the children under their care, but the staff also shares with them the love and message of Jesus. Thank you for partnering with TMS Global.