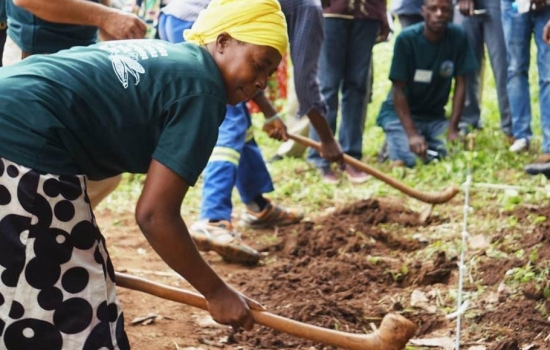 06.24.2020
Moses* has always been looked down upon by his neighbors in Malawi. He is a subsistence farmer who struggles to grow enough maize to feed his family. He usually harvested only 18 bags of maize each year.
That changed when he encountered Foundations for Farming.
Dean and Stefanie Babcock, along with their four children, minister to subsistence farmers in Malawi. They teach Foundations for Farming principles, which are proven techniques that help local farmers grow more and healthier crops. Foundations for Farming also teaches people about Jesus, stewardship, and godly character development in addition to the basics of farming.
Dean attended a Foundations for Farming conference in Malawi just before COVID-19 shut down large gatherings. At the conference, 70 people gathered to share ideas and stories of the impact the program has had on their lives.
Moses attended the conference and told the other farmers how he had struggled with his crops and how his neighbors disrespected him. He began to use Foundations for Farming principles, and everything changed. "Moses harvested 20 bags of maize, then 33 bags," said Dean. "He was able to sell some maize and finish the construction of his house using cement."
Amazed by Moses' success, three of his neighbors then began to use the same principles, then 10, then even more.
At the same conference, Dean heard other encouraging testimonies of transformation. "In a mostly Muslim area of the country, loving people through farming has broken through opposition and opened many doors," said Dean. "Four Muslim chiefs have been baptized in Christ. One confessed that he used to send curses on people before he knew Jesus. Now he is teaching his neighbors about better farming methods and sharing with them about new life in Christ."
Dean walks with local farmers as they implement the Foundations for Farming principles and shares with them about his faith in Jesus. Dean and Stefanie have their own farm where they test new farming techniques and share their successes with their neighbors. Dean said, "We know that sustainable, natural growing methods will make an enormous difference in how well people eat and in how well they live."
*Name changed for privacy