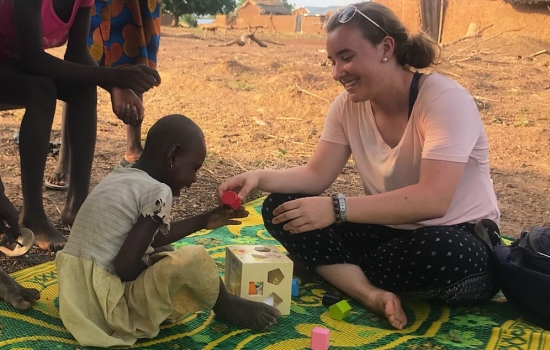 09.18.2018
For many cross-cultural workers, the desire to serve overseas all began with a short-term mission trip. But some want to serve for a longer term, such as a summer, to determine whether or not cross-cultural ministry is the right fit for them. TMS Global created the GreenLight programs to meet this need.
A psychology student at Asbury University in Wilmore, Kentucky, Alex heard about TMS Global's GreenLight: Medical program from friends. During the summer of 2017, Alex and seven other women traveled to Ghana to gain firsthand experience doing medical missions. The GreenLight team served with national and expatriate Christian healthcare professionals in rural communities around the country.
Upon returning from Ghana, Alex knew that she wanted to expand her cross-cultural ministry experience. This summer, she enrolled in the GreenLight: Next program, which provided her with the opportunity to return to Ghana for six weeks and live with a TMS Global worker.
During the summer, Alex served with the Special Needs Awareness Program (SNAP) in Lawra, Ghana. The SNAP program serves children with disabilities in a rural and remote part of the country. Alex worked one-on-one with four children during the summer and increased their ability to use fine motor skills.
"My experience was amazing!" said Alex. "I learned what it would be like to serve in Ghana one day. God taught me a lot throughout those weeks. I learned that I truly belong in Lawra, Ghana after graduate school. I also learned that, even though I do not feel capable of doing this work, God will equip me with the right tools. I learned more about relying on God through witnessing the Ghanaian people's faith."
Alex is finishing her studies at Asbury University and plans to attend graduate school to earn a degree in occupational therapy. After that, she wants to return to Lawra and serve through the SNAP program, assisting Ghanaians with physical disabilities and sharing the love of Jesus.
Next steps:
To find out more about the GreenLight programs we offer, visit our Go page. We can provide you with opportunities to experience life in another culture, and help you discern your call to cross-cultural ministry.