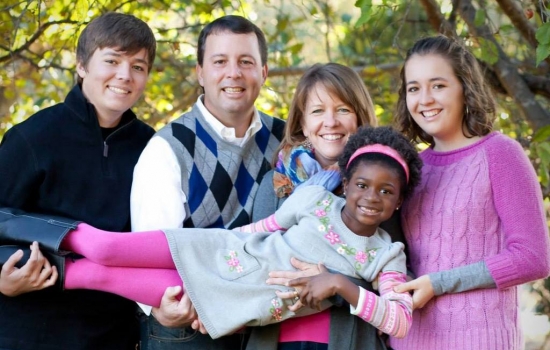 01.23.2017
When a TMS Global missionary serving in Liberia suffered complications from malaria, he became gravely ill. Discover what his family experienced, and what God taught them through their frightening journey.
When Joey and Kerry moved to Liberia to serve as missionaries, they knew malaria would have an effect on their lives. "We knew it wasn't a question of if we would get malaria, but when," said Joey.
After only eight months in their new home, both Joey and Kerry contracted malaria. A rapid malaria test showed that Kerry had malaria, but gave a false negative result for Joey. Kerry began taking malaria medicine and improved, while Joey continued to decline, and assumed he had an upper respiratory infection.
After a week, Joey turned yellow and could not think clearly. Kerry put Joey in the backseat of their truck and drove him to a clinic in the next town. Former First Lady Michelle Obama was visiting Liberia that day, so the main road to Monrovia was shut down. After taking several detours, Kerry ended up at a police checkpoint. When the commanding officer saw Joey, the officer offered to ride with them through the additional checkpoints so they could get to the clinic more quickly.
Upon arrival at the clinic, Joey tested positive for malaria. His internal organs began to shut down. His kidney and liver showed signs of damage, and his blood pressure plummeted.
The clinic in Liberia was not equipped to handle such an advanced case of malaria, so the medical personnel recommended having Joey evacuated to Frankfurt, Germany.
"As we left for the airport, there was such a downpour of rain that they closed the main road to the airport," said Kerry. "The hand of God moving is the only explanation of how my truck and Joey's ambulance got through the waist-deep water to get to the airport on time."
The next several days were touch-and-go as doctors worked to reverse the effects malaria had taken on Joey's body. Ultimately, Joey made a full recovery.
"God being with me and strengthening me became very real in those days," said Kerry. "We were still fairly new to Liberia when this happened and I had to navigate everything alone. As I handled insurance, travel plans to Germany, medical care for Joey, finances, and driving through the flood I was overwhelmed, but God led me through it, moment by moment.
"I also experienced the global body in a new way. Our friends in the US helped our son get to Germany; the TMS Global staff helped me with insurance and medical questions; our friends in Liberia packed our bags and took care of our home while we were gone, and missionaries in Frankfurt allowed us to stay with them and helped us navigate while we were in Germany. I felt an overwhelming amount of responsibility during those frightening days, and knowing that people around the world were praying for us gave me a sense of peace and the knowledge that God was at work.
"We have clearly seen the hand of God at work in our lives. Although this was a very traumatic experience for us, we are not discouraged from the work God is calling us to do. God has proven Himself faithful, and we continue to follow His leading."
Joey and Kerry are working to open a guest house and provide eco-tours for people who visit the coast. Through their business they will provide employment opportunities for Liberian young adults, who they will disciple in their growing faith.
Your donation will help TMS Global recruit, train, and serve people, like Joey and Kerry, to share the love of Jesus around the globe.