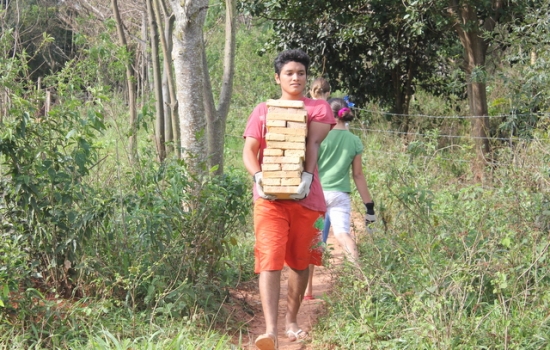 05.22.2018
Kike had a bad reputation in his small Paraguayan town. As a high school student, Kike was aggressive towards students and teachers. He drank during school and often got into fights.
Kike was born to a single mother who struggled to feed her family. Being the oldest, Kike was often left to fend for himself.
Christian and Angelica Dickson are TMS Global cross-cultural workers who have served in Paraguay for 15 years. They work with youth, mentoring young adults to become leaders in the church and in Paraguay.
A member of the Dicksons' youth group invited Kike to church many times, and one day he decided to show up. Christian was preaching that night, and Kike grew more and more uncomfortable as the service went on.
Kike became acutely aware of the sin in his life. He decided to turn his life over to God and accepted Jesus as Lord.
"Kike made an immediate transformation," says Christian. "Now Kike is involved in almost everything Angelica and I do. We could not imagine doing ministry without him."
When Kike's former principal witnessed the transformation in him, she could not believe he was the same person. The troubled youth who caused so many problems in school had become a responsible leader.
Kike manages the logistics of ministry outreaches, serves as a mechanic when their team travels, and mentors other youth. He has rarely missed a church event in the six years since deciding to follow Jesus.
"His humor and hard work make him an invaluable part of our team," says Christian, "and there are numerous young people walking with Christ in Paraguay because of their contact with Kike.
"We would have never chosen Kike as a fellow worker. We didn't even know who he was, so he was not on our radar. But God had a plan and He was at work in Kike's life. We are so thankful that Kike chose to follow Jesus and that we get to serve with him in ministry."