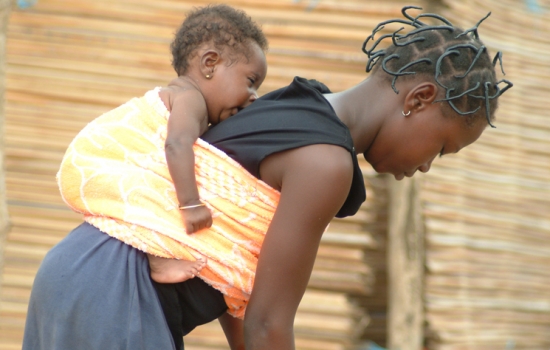 05.23.2019
If you have been rejected most of your life, it's very difficult to imagine that anyone could truly love you. Abandonment is a way of life for many single mothers, widows, orphans, and the elderly in Togo. Esaho and Beatrice Kipuke are working to reveal the unconditional love of Jesus to the hurting and excluded in this West African nation.
Esaho and Beatrice are from the Democratic Republic of Congo and have four children of their own. Called to minister in Togo, the Kipukes joined TMS Global and began ministering there 15 years ago.
One day, Esaho and Beatrice were in town when they saw a young girl with a baby strapped to her back. The baby's head was not supported, and Beatrice gently showed the girl how to strap the baby so that the infant's head was secure. The Kipukes began talking to the girl, named Aneho, and discovered that the baby was her own child. Aneho was 14 years old.
Aneho's parents had died, and an uncle had taken her in. However, her aunt did not like Aneho and made life difficult for the young girl. Aneho wandered the streets all day and only went home at night to sleep.
Esaho and Beatrice were heartbroken by Aneho's story, and the couple took her in to live with them. As they found out about other young girls in similar situations, they took in those single mothers as well. Soon the Kipukes had 17 girls and their children living in their home.
The Kipukes' ministry supporters made it possible to rent a home for the girls. Beatrice began teaching them sewing and hair dressing as trades so they could support themselves and their children. The young women learned about Jesus, how to care for their children, and experienced a loving family. Sixty-four single mothers have been cared for by the Kipukes over the years.
The Kipukes' ministries continued to grow beyond caring for single mothers. The Kipukes placed 36 abandoned orphans with loving families. They also began an outreach to widows and elderly people who had been rejected by their relatives. The Kipukes lead Bible studies, fetch water, cook, and clean for them. Esaho and Beatrice also raised a young boy who had been abandoned as their own son. When Mick was older, the Kipukes helped him start an auto mechanic shop. Mick has trained 28 other young men and women in the trade, free of charge.
A few years ago, Esaho and Beatrice met two sisters who had decided to follow Jesus. Their Muslim family rejected the girls and kicked them out of the home. Their mother, who had been very ill, passed away. The family refused to pay for the funeral because of the girls' decision to follow Christ.
The Kipukes took in the sisters and paid for the funeral of their mother. One of the girls' family members, Agathe, saw how Esaho and Beatrice treated the young women and how they cared for their mother after her death.
She said, "I have never seen things like this. I was rejected by everyone. They all thought I was a witch. Now I feel loved. I have never felt loved before. You came into my house and ate my peanuts when everyone else was afraid of what I would offer them. I learned to love because somebody loved me." Beatrice introduced Agathe to Jesus, and she began to follow Him. Now, Agathe helps coordinate the Kipukes' ministries when they are out of town.
"We love what we are doing," said Beatrice. "The finances are hard, but our faith is big."
"It all started with Aneho," said Esaho. "That one conversation with her transformed our entire ministry. We had been focusing on starting a church, but this is what the Lord had for us to do in Togo."
Next steps:
Pray for Esaho and Beatrice as they continue to minister in Togo.
Pray that the single mothers, widows, orphans, and elderly who they work with will experience the unconditional love of Jesus.