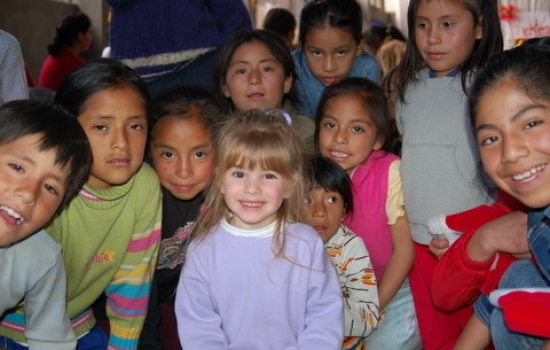 01.06.2011
Ash and Audra McEuen have ministered in Huancayo, Peru since August 2010. They work in the areas of discipleship, women's ministry, ESL classes, and literacy.
The McEuens recently opened the first children's library in Huancayo, a city of 500,000 people. The library is called Leer es Crecer, which translates as "reading is growing" or "to read is to grow."
The library is located on a busy corner in the city. "We chose this place because there are three large schools nearby, not to mention a number of smaller, private schools, whose students walk by on their way to and from class," says Ash.
Kids from the surrounding areas have already flooded the library since the November 4, 2010 opening. Many come every day after school and stay until it closes. "They tell their friends. They bring their friends. They talk to their teachers about it. They bring their parents. …There is a hunger, a desire, for this kind of thing. The library is the only thing like it in the city," says Ash.
There are other libraries in the city, but none devoted to children, and none that allows a person to take books home to read. The municipal library in Huancayo houses 27,000 books, but people are not allowed to browse among them or take them home. You simply write down the title and author of a book you would like to read, pass it to someone in the office, and wait for the book to be brought to you. You are not allowed to take it home. Needless to say, a children's library that freely gives out books on loan is a new concept.
The McEuens have also started mobile libraries in the surrounding villages. "In November of last year, I got a vision for a library outreach and Ash started running with it. We started by taking books out to schools with few resources, spending a half hour with each class, reading to them and then letting them read on their own. We have continued reading at several schools, are lending books to teachers since opening the library, and have started lending books to individuals (students, parents, etc.). We are the only library in a town of 500,000 people to lend books that people can take home. The amazing and wonderful thing is that people are returning the books and are completely hungry to read," says Audra.
After opening Leer es Crecer, a town leader from a nearby community expressed interest in having the McEuens bring a mobile library to his town. Ash and Audra have also been interviewed by two local news stations regarding their work. The local library is talking with them about developing a similar model, designed specifically for children as well. The local schools have expressed appreciation of their work and teachers are bringing their entire classes to the library.
"We don´t hide the fact that we are missionaries. We tell people that we are offering all this free of charge because of the love that Christ has for us. It is free and available to all of us. The library is helping us to build relationships with all sorts of people, young and old," says Ash.