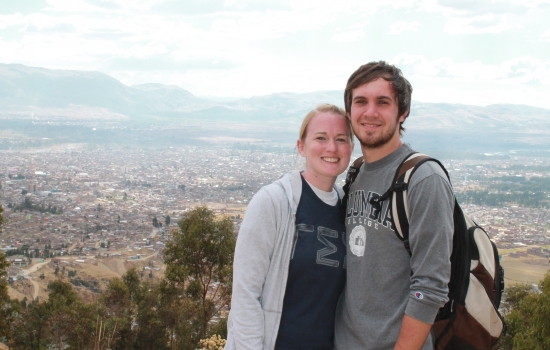 03.03.2014
Brian and Jesse Monda are serving as GreenLight interns in Peru for one year. Here they share what they have learned during the last few months and how their time in Peru has impacted their lives.
It is hard to believe that Brian and I are half way through our time here in Peru. We have experienced and learned more than we ever imagined. We have traveled to many different places, been a part of various ministries, and have met a lot people. And we have been blessed by it all!
There are a lot of words that could describe our experience thus far, but there is one word that stands out the most: hope.
As Brian handed a Bible to a man who has never owned a Bible before, we saw hope. We saw hope in the eyes of a man who never thought he could lead a Bible study before because of his lack of knowledge and the fact that he didn't own a Bible. Now he has a Bible and hope that he can lead a study through the power of Jesus Christ. We heard hope in his voice as he said, "I will now lead my friends to Christ, and the next time you come I will have 15 other men with me!"
I saw hope as I explained to a man that none of our works can earn our salvation, it is only through Jesus Christ that we can be saved. I saw hope in the eyes of a man who has been told that he isn't good enough, he doesn't do enough things, he doesn't go to church, and therefore he isn't saved. I heard hope in his voice as he prayed to accept Christ into his life for the first time, and I saw hope as he stood up to face life as a new man.
We hear hope in the stories of men and women who were addicted to drugs and alcohol or were drug traffickers, and now are men and women of Christ. Some have quit their jobs to be in ministry full-time, bringing hundreds of people to Christ. Some have moved into difficult regions to share the gospel with the least reached.
As we walk down the street and see a homeless woman with no arms or legs, using her mouth to crochet, we have to have hope. We have to have hope that one day we will see this woman again and she not only will be walking and dancing, but crocheting the most beautiful blanket with her hands for Christ.
We have hope for the rest of the homeless community we meet, that one day they will be sitting at the right hand of God – no longer begging, no longer hungry, and no longer homeless.
As I work each week with boys with disabilities, I have to have hope. As they hit me, throw rocks at me, and scream because they just can't communicate their needs, I have to have hope. I have to have hope that one day we will meet again, and we will get to praise, worship, and have full conversations together. There will be no more frustration, confusion, and pain; for they will be made perfect.
So we ask that you continue to pray. Pray for the people in the stories we have shared. Pray for this broken world. Pray that these people will have hope in Jesus Christ.