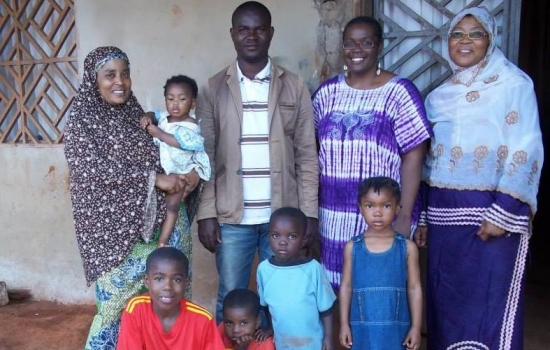 06.14.2018
Toya sat on the edge of the hospital bed, holding Elliott's tiny hand in her own. Together they had endured months of hospital stays and medical tests. Hundreds of people were praying for Elliott's healing, yet in this crowded Cameroonian hospital room, Toya felt hopeless.
Originally from California, Toya moved to West Africa in 2011 to work with incarcerated individuals, orphans, and young women. Years later, she founded a school for orphans and children with special needs called Hope and Destiny Academy.
In addition to her ministry through the school, Toya fosters children with medical needs. She took in Elliott, a young boy diagnosed with Infantile Spasms (a form of epilepsy) when he was an infant.
Elliott spent months in and out of the ICU, fighting for his young life. He shared a room in the ICU with five other patients, one of whom was Alam,* a two-year-old boy with a heart condition. Alam and Elliott shared the only oxygen tank that was available.
Each morning, Toya would sit by Elliott's bed and read a children's Bible, worship, and pray with her foster son.
After a few mornings, Alam's grandmother, Maadai,* lifted Alam onto Elliott's bed when Toya began to read the Bible. She looked for a sign from Toya that Alam could join in.
Toya welcomed Alam and had devotions with both boys. Alam's family is devoutly Muslim and from Cameroon. They speak French, and Toya speaks only English.
"Elliott was in and out of the ICU for several weeks, and each time we spent quality time with Alam and his grandmother" said Toya. "We struggled to speak to each other in broken forms of the other person's language, and, when someone was available who spoke both languages, we peppered each other with questions. We developed our own language, and a bond was created."
Elliott passed away when he was 10 months old. When she found out, Maadai rushed to Toya's side and wept with her. Toya left the hospital and returned home, brokenhearted.
"Weeks later, Maadai called to tell me that Alam was being transferred to another hospital for heart surgery. She asked me to pray for him and for their family. My heart was overwhelmed with gratitude.
"I was struggling at the time with being angry for losing Elliott. I was angry that my baby was gone after God had given us so many good days and hope after so many bad days. The moment Maadai asked for prayer, my mind was filled with all of the good things that happened as a result of Elliott's life.
"Cameroonians were amazed that Christians in the US were being so generous to help a child in their country. Nearly every day the nurses would bring patients to me so I could tell them Elliott's story. As I told it, I shared with them the love of Jesus that inspired people to help him. I never would have met these people otherwise.
"I was also able to share about Jesus' love with Elliott's birth mother and some of her relatives and friends. Elliott's life was a blessing to many and hopefully a reminder that every life has value.
"As I thought about these things, I repented and told God how grateful I was that, even in the midst of tragedy, His light was shining among people who didn't know Him. Maadai changed my life that day."
Nearly a year later, Toya was able to visit Maadai at her home. Alam had recently passed away as a result of his heart condition.
"Maadai's family welcomed me warmly and kept repeating over and over that I was part of their family," said Toya. "It is my honor to share life with this sweet woman and her family. I'm so excited to see what God has in store for them in the future. Please join me in praying for this family and that my life will demonstrate God's love to those around me."
*Pseudonyms used for privacy.
Next steps:
Pray:
- Please pray for Toya as she shares her faith in Cameroon.
- Pray for Maadai and her family to experience Jesus and accept Him as Lord.
- Pray for the other children with whom Toya works.
Explore:
If you are interested in talking with a mobilization coach about cross-cultural ministry, contact our team. We can help you find your place.