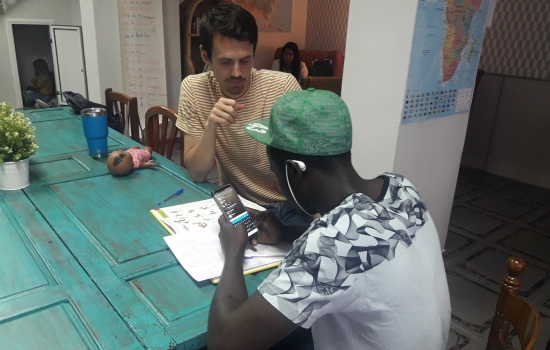 04.27.2021
Adu* spent his childhood working as a slave in the African gold mines. He escaped by hiding in the hull of a freighter ship with another runaway slave. Adu's friend died several days into the journey. Adu survived on rainwater he caught during the 13-day voyage.
After sneaking off of the ship, Adu made his way to Spain as an unaccompanied minor during the height of the refugee crisis. Adu and other refugee children and teens who made the journey alone were placed in refugee housing specifically for unaccompanied minors. They live in groups with a house parent, and the children are able to attend school.
As hundreds of thousands of refugees and immigrants flooded into Spain in recent years, the TMS Global team there wondered how to respond. After months of prayer and discernment, the team decided to open La Mesa Turquesa (The Turquoise Table) Community Center.
La Mesa is located in the town center and gives refugees, immigrants, and asylum seekers a safe place to relax and an opportunity to find community. Coffee and tea are available as well as free WiFi so these who are far from home can communicate with family from which they have been separated.
Adu was walking down the street one day and looked through the window of La Mesa. He stopped when he saw people of color sitting around a table. Adu went inside to see what was going on and met some of the TMS Global workers. Laurie and Billy Drum, Axel and Delilah Agosto, and Ryan and Kat Marcum all serve with TMS Global and run La Mesa.
"Adu is a shy, soft spoken young man, and very alone in the world," said Billy. "He speaks fluent English and was very excited to find other English speakers. He even met a woman from his home country who was also a refugee and spoke his tribal language! There were several other people who were in similar situations as Adu with whom he could relate. He immediately had a place."
Before the pandemic, the team hosted game nights and activities for anyone in the community. Local volunteers taught skills, led crafts, held mini-music concerts, shared international foods, and built community.
When COVID-19 restrictions shut down nearly everything in Spain, La Mesa was unable to open its doors for several months. The TMS Global team in Spain pivoted the ministry to continue to reach out to the community.
The team held online craft workshops and events that provided fun and continued to provide relationships for people who were isolated. When the restrictions were lifted to an extent, the team began to hold in-person language classes and conversation groups. Volunteers from the community began to participate.
During one of the lockdowns, Adu had to stay in his group home. He would often text Billy, which was the only communication Adu had with anyone outside of the refugee housing center. One day, Adu fell ill. Billy picked Adu up and took him to the local hospital.
Adu was frightened since he speaks very little Spanish, and the hospital regulations prevented Billy from going inside. Billy filled out Adu's paperwork and waited outside of the hospital for hours. He continued to text Adu to keep him calm and encouraged as he underwent tests.
Adu was finally released to Billy and sent home to quarantine until his test results came back. "He thanked us and apologized to us every day for being a 'burden,'" said Billy. "Most of all, Adu thanked us for being 'Mum and Daddy' to him and for taking care of him. He prayed for us every day."
*Name changed