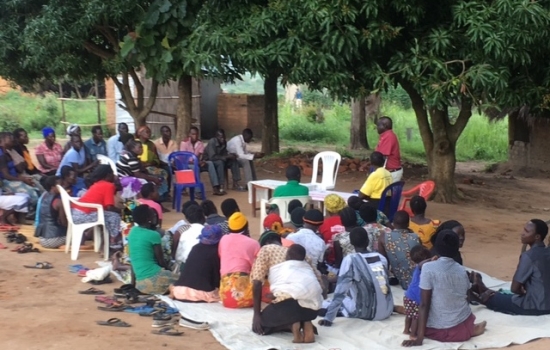 12.14.2017
As I sat on the back of the motorcycle, the warm African breeze blowing through my hair, I couldn't believe this was actually my life. What if I had said 'no' to Jesus' call to serve as a missionary? Look what I would have missed!
Nancy Peed shares her thoughts on her first few months in Uganda. A former respiratory therapist and hospital CEO, discover how Nancy sees God moving in this difficult place.
Five months ago I gave away or sold all of my possessions and hugged my father and daughter goodbye before boarding a plane to Uganda. I've never cried so hard in my life. Yet, just a few short months later, I feel at home in Africa and am thriving.
Today I am going to lead a Bible study for a group of men and women who live in a village outside of Arua. These sweet people have been through so much and are hungry for God's Word. Hungry for His refreshing Spirit in the midst of difficult, dark times. Most are single mothers, raising a host of children, many of whom are not their own. Many men have left, some parents have died, and these women are struggling to provide for so many children.
About 35 people gather in a tent and all eyes turn towards me. It reminds me of the giant sunflowers that my daughter and I planted along the bank of the Flint River many summers ago.
I begin to speak about Psalm 23. I tell them about a little lost lamb and the Good Shepherd who goes to look for it. When He finds it, he kneels down, gently picks it up, and holds it close to His heart as He carries it back home. I explain that Jesus is our Good Shepherd and He will always come to look for us and rescue us.
I take a little pink cup and explain how it resembles our hearts—empty, cold, and hard. Then I fill the cup with water until it overflows down the edges and trickles onto the floor. I describe how Jesus can fill our hearts with His love, mercy, forgiveness, grace, and the power to live in this hard world.
I ask, "Who needs Jesus to fill their hearts to overflowing? Who is tired and needs rest? Who has lost hope? Whose love has turned cold? Who needs a Good Shepherd?"
Slowly, one by one, everyone stands up. Tears are streaming down their faces. The group breaks into a song of petition and thanks to God. A song about being filled up and set free. They sing, clap, and dance around the room, praising the God Who can redeem.
There is so much hurt and sadness here. The poverty is overwhelming and the future looks bleak. Yet, as they learn about Jesus and the Holy Spirit stirs hearts, people are changing. They are kinder towards one another and are beginning to have hope again.
If you are interested in serving with TMS Global, complete a short interest form. A mobilization coach will be in touch with you. We would love to help you find your place.