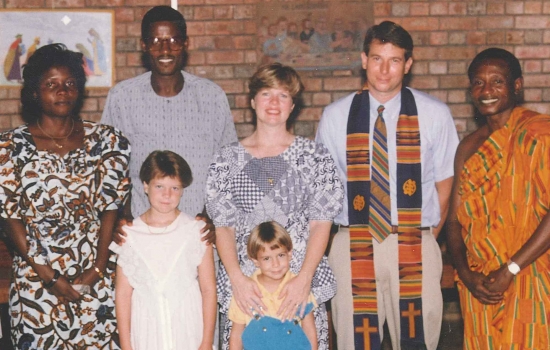 01.20.2020
When Frank first approached his wife, Vicki, with the idea of serving as cross-cultural workers, she was hesitant. In fact, as the couple began to apply to a few different mission-sending organizations, Vicki secretly prayed that the Lord would reveal His will for their future by rejecting them. However, Frank and Vicki were initially accepted by all three of the organizations to which they applied, and they chose to serve with TMS Global.
That was 1987. The couple, who were in their thirties at the time, moved to Ghana, West Africa with their infant daughter. Vicki now testifies that during their preparation time, the Lord did an amazing work in her heart to the point that she was even more excited about moving overseas than was Frank.
In Ghana, Frank was asked to serve with the Methodist Church Ghana as the Conference director of evangelism, mission, and renewal, and taught at Trinity College, a ministerial training school. In addition, during their second term, Frank developed a lay evangelists training program. Vicki, a former special education teacher, trained Ghanaian teachers who taught disabled children and discipled several women.
The Methodist Church asked Frank and Vicki to start a new church in Accra, Ghana. Frank, Vicki, and two Ghanaian couples who were friends of theirs began to meet in the Decker's living room for informal worship on Sunday mornings. Within a few months, the group had grown and moved into a chapel, and the congregation continued to grow.
When the Deckers completed their second term and returned to the US seven years later, the congregation had grown to 60-70 people. The church was pastored by another TMS Global cross-cultural worker for a year, and then a Ghanaian pastor was appointed to lead Asbury Dunwell Church. The church continued to increase in size and influence in the community.
Several years ago, the church was able to purchase a semi-permanent tent. Asbury Dunwell Church has vibrant children's and youth ministries and active small groups to disciple people in faith. The congregation has planted another church, and it is planning to build a more permanent structure soon.
Last year, Frank was able to return to Ghana and preach at Asbury Dunwell Church for the first time in a decade. "It was exciting to see how the church had grown, both in numbers and in spiritual depth of the leadership," said Frank. "Most of this happened after we left, which I think is a living illustration of the brief parable of the growing seed that Jesus tells in Mark 4:26."
As the church was growing, Frank was also directing evangelism throughout Ghana for the denomination. While the Methodist Church Ghana had evangelists serving in remote areas, the group was not officially recognized by the denomination. "These evangelists had a zeal to reach people in difficult places," said Frank. "At that time, there were more than 10,000 towns and villages in Ghana without a vibrant Christian witness, and these men and women were willing to go to these difficult places and plant churches."
Frank remembers the day when God gave him a vision for developing a lay evangelist program that would be recognized by the Methodist Church. Frank was given permission to start the program, and he had 40 people join the class in its first year. Most of the men and women had secular jobs to support their families, and they participated in the program in addition to their other work.
Joseph was one of the evangelists Frank served with during his time in Ghana. Joseph was strong in his faith and dedicated to spreading the gospel throughout Ghana. The Deckers sponsored Joseph to further his training as an evangelist, and he took over the leadership of the program when the Deckers returned to the US. "We had 40 people trained as evangelists, and within a few years, the program had grown to 300 people," said Frank.
In 1994, the Deckers moved to Atlanta and Frank joined the staff of TMS Global to initiate the organization's training department. He held other roles over the years and served as the vice president for training and formation. Vicki has served as a coordinator of third-culture kid (TCK) care since 2008, caring for the hundreds of TCKs during that time.
Frank and Vicki will retire from TMS Global this February. They plan to stay in the Atlanta area and spend time with their new granddaughter and adult children.
"We did our small part, sometimes reluctantly or with a less than Christ-like attitude, but then we would see the Lord work," said Frank. "I think that being faithful in the small steps He puts before you and then getting out of the way is really important in ministry."
Next steps:
Pray for Asbury Dunwell Church as it continues to grow and make disciples in Ghana.
Pray for more cross-cultural workers to serve around the globe.
If you are interested in serving with TMS Global, complete a short form and a mobilization coach will be in touch.