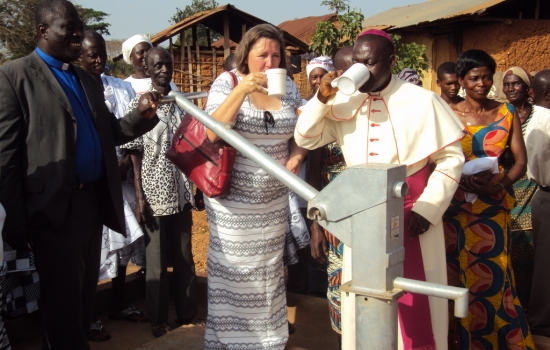 05.16.2017
Mary Kay Jackson, a civil engineer from Texas, has spent the last 11 years working to bring clean water to people in rural Ghana.
In 2013, Mary Kay was awarded the Distinguished Graduate of the Zachary Department of Civil Engineering from Texas A&M, where she earned her degree. Here she explains why she moved from the corporate world to West Africa, and why it was the best career choice she could have made.

I have always wanted to be a civil engineer. My 23-year career as a municipal consultant was fulfilling—all I ever dreamed. I had the opportunity to work with great clients to help solve the challenges posed by the rapid growth in the Southeast US in the 80s and 90s. I worked on leading-edge projects incorporating the use of ozone and membranes into wastewater treatment, which was innovative at the time. I loved my work.
But all of this was just the prologue.
About 10% of the world's population does not have access to adequate supplies of safe drinking water. We are not talking about access to 80 gallons per person per day—the amount we use on average here in the US. We are talking about the basic human right to a mere five gallons of water per day within a 30-minute walk of your home.
At the same time, 2.5 billion people, more than 33% of the world's population, do not have the dignity of access to an improved sanitation facility. This results in death, disease, and a reduced standard of living for everyone, not just the poorest of the poor.
In 2009, water-related disease was the leading cause of death in the world, killing 3.4 million people every year. In Ghana alone, 30,000 children die of preventable, diarrheal disease annually. The vast majority of these deaths are children under five-years old—the future of the country.
In 2002, I had the privilege of visiting Ghana for the first time. While our family was there for two weeks on a short-term mission trip, we saw villages without water and children drinking from rivers and ponds. My two sons started asking why children had to live that way, and whether or not I could do something about it.
I could do something about it.
Soon after, I clearly felt the call of God on my life to love the least in this world as He loves them. God showed me that, while no one is dying of waterborne disease in the US, His children around the world are dying. God had given me the talent, and Texas A&M had given me the education to be able to make a difference, so what would I do to meet that challenge?
In 2006, I quit my consulting job and our family moved to Ghana, where I began working with the Methodist Church of Ghana to bring water and sanitation to remote, rural villages.
The most fulfilling part of my career is happening right now. It is not the most technologically advanced work, but it is the most significant work I will ever do. The best part of my job is knowing that the children of Ghana will have a much greater chance of growing up to live full and productive lives, all because I have given them a cup of water in Jesus' name.
We are all called to care, and we are all called to make a difference in this world. I challenge each of you to find something you are passionate about that makes the world a better place. Dream big. Change the world. You may not be able to change everything, but you will make a difference. Life is much richer when you are living your dream and are passionate about what you are doing.
May God receive the glory for everything I have been able to accomplish.
Your support enables TMS Global to train, mobilize, and serve cross-cultural workers, like Mary Kay. Thank you for joining Jesus in His mission to bring clean water to rural Ghana.