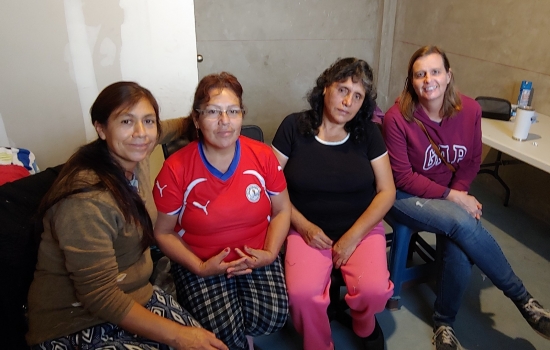 09.19.2019
Raquel did not intend to become a single mother struggling to feed her children, but that's often the situation in which women in Peru find themselves.
Women and children in Latin America are often the victims of physical, mental, and emotional abuse from their husbands and fathers. They grow up being treated as worthless, and they begin to believe that they have no value. Many women in Peru do not complete secondary education, and job opportunities are very limited.
When Paul and Kelly Wiegert began ministering in Peru, they felt called to provide a way for single mothers to earn an income. The Wiegerts minister with El Milagro church, which is located in an impoverished barrio in northern Trujillo. The church was started by TMS Global cross-cultural workers and was designed to minister to the spiritual, emotional, and physical needs of Peruvians in this region.
Paul and Kelly prayed about how they could help single mothers earn money in a safe environment, allowing them to provide for their children and become less dependent on the abusive men in their lives. The Wiegerts decided to start a sewing ministry and train women to sew and sell items of clothing.
Hilda is from El Milagro and is an excellent seamstress. She wanted to make and sell cloth diapers. "She has a heart for the church and for the women in our community," said Kelly. Hilda and the Wiegerts partnered together to form Ella Handiworks.
"The word 'handiworks' came from Ephesians 2:10," said Kelly. "'For we are God's handiwork, created in Christ Jesus to do good works, which God prepared in advance for us to do.'
"'Ella' means 'she' stands for:
Edify God
Lift women up
Love and share God's love, and
Assist our employees to be more financially independent."
Hilda began to teach two other women, Raquel and Alicia, to sew. Both women are single mothers raising several children. Raquel and Alicia learned to sew and improved in their skills until they were ready to start producing the cloth diapers.
Paul and Kelly's ministry partners made it possible for them to purchase two industrial sewing machines, and El Milagro church gave the women a space to use free of charge. Ella Handiworks began production last summer. The women sell the diapers door-to-door, and they plan to have a booth at a local market soon. Each week the women have a Bible study together and learn more about God's Word and how to apply it to their daily lives. They share prayer requests, pray together, and are growing into a supportive community.
After their first week of production, Hilda, Raquel, and Alicia each received a paycheck. Raquel's son was so excited because his mother bought him some fruit, which she had never had the money to buy before. Raquel's son prayed and thanked God for Paul, Kelly, and Hilda and the opportunity they gave his mother to work.
"We want these women to know their worth," said Kelly. "Their worth is in God, and He wants us to share His love through actions and in love."
Next steps:
Pray for Paul and Kelly as they continue to minister in Peru.
Pray for Hilda, Raquel, and Alicia, and for the success of Ella Handiworks.
Pray for abused women all over the world. Pray for their healing and for them to find worth through Jesus.