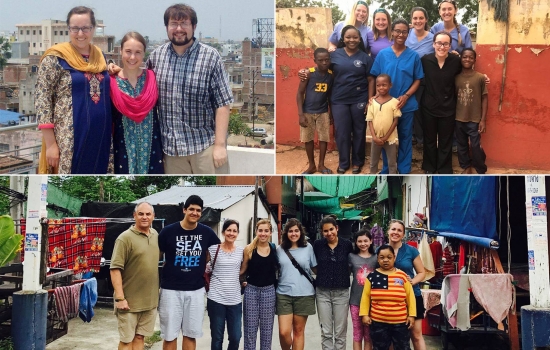 08.24.2017
The United States sends more than 125,000 cross-cultural workers outside of its borders each year. As a new generation of people enters their 20s, a number of them are considering serving overseas as missionaries.
TMS Global created the GreenLight program to give students and young adults the opportunity to explore ministry, culture, and calling in a group setting.
Unlike a traditional short-term mission trip, in which a project is accomplished or an event is held, the GreenLight program was designed to help young people explore what it looks like to live, work, and do ministry cross culturally. Much of the focus of the trip is intended to provide a glimpse into different kinds of ministry, time for spiritual formation, and an experience of being mentored by TMS Global cross-cultural workers.
Jennie Wheaton, who directs the program, said, "There is time carved out for students to spend time paying attention and becoming more aware of what God is doing in them, who He is shaping them to be, and becoming increasingly aware of the ways in which they need His healing."
The GreenLight: Gateway team of three students spent five weeks in Thailand. The team divided their time between the city of Bangkok, where they learned about ministry to victims of sex trafficking; and the suburbs of Roi Et, which is the poorest province in the region. TMS Global workers in each location guided the team, showing them their particular ministries and discussing what cross-cultural life is like. A large part of the ministry focus in Thailand is investing in teens and mentoring them as they begin to make important decisions about their lives.
"God did a lot of work in me this summer," said a member of the Gateway team. "I feel more affirmed and encouraged in my call to missions. For the first time, I'm okay with not knowing exactly where and when I'm supposed to go. I gained a greater self-awareness and learned about how I work with a group and adapt to other cultures. God showed me a lot about genuine Christian community and surrounded me with people full of love, wisdom, and insight."
The GreenLight: Medical team of seven journeyed to a rural village in Ghana where TMS Global worker Dr. Cam Gongwer and his family served for 13 years. A physician, Dr. Gongwer served as the host for the team of pre-med and medical students to serve with national and expatriate Christian health professionals at the Ankaase Methodist Faith Healing Hospital. Louise Reimer, a TMS Global worker, and Taylor Otto, who served on a 2016 GreenLight team, co-led the trip.
The medical team learned about global health, spiritual formation, and cross-cultural ministry while observing and participating in clinical care, community health, and evangelism. They also spent time with TMS Global workers who serve in Ghana providing clean water, pastoring, and teaching.
"God has been good to me," said a member of the team. "He showed me that I could be uncomfortable and still be full of purpose and promise. He showed me that He is truly present in every place, and all that has breath should praise His Holy name."
The GreenLight: Focus team consisted of three students from Asbury Theological Seminary. This team set out for South Asia where they engaged in a two-week training program for TMS Global cross-cultural workers who are preparing to serve their first term. They also experienced cross-cultural service with a TMS Global team doing business in the region. Many of the local hires for this business are women.
"Many women in South Asia are not taught to believe they are smart or have value. My prayer is that the women involved in this business would know how valuable they are. I am so thankful that God is using this business as an opportunity for these women to learn and use their gifts, talents, and intelligent minds to make beautiful things," said Anna* from the Focus team. "I'm thankful they are also able to learn about Him, and how deeply loved they are."
To apply for one of the 2018 GreenLight teams, complete a brief form here. Details regarding locations and dates for the 2018 teams will be announced soon.
*Pseudonym used for security.