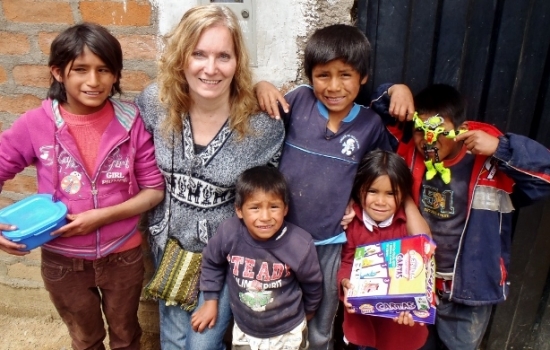 09.29.2020
Maria* and her husband fled their home country of Venezuela in search of a better life. They traveled to Peru and tried to find jobs. Maria became pregnant, and the young couple was thrilled to be starting their family. Things were looking up for them.
When the COVID-19 pandemic caused the Peruvian government to enforce a lockdown, Maria and her husband could not work, and they quickly ran out of money. Maria suffered a miscarriage and lost her baby who was near term. She was devastated. To make matters worse, Maria needed a D&C but could not afford the surgery.
Tim and Jennifer Goshorn minister in Peru with TMS Global. They lead a children's ministry, a Bible study in the local women's prison, and host a feeding program. When Peru's lockdown began, the Goshorns worried about the children who attend their ministries. These children do not have enough to eat under normal circumstances. With their parents out of work and a quarantine in place, many people were hungry.
Tim met with the local police and explained the plight of his neighbors. The police gave Tim special permission to take food to the children and families he serves. For months, Tim and Jennifer have been delivering groceries to 300 people each week. As they have delivered food, other urgent needs were brought to their attention.
The Goshorns met people in need of medicine, medical care, and people who had been evicted from their homes and were living on the streets. Supporters donated money so the Goshorns could purchase medications for people suffering with diabetes, heart problems, and children who have seizures. Donations also came in to cover medical treatment for emergency surgeries and to pay for Maria's D&C.
Tim continued to bring food to Maria and her husband and checked on them after her surgery. Maria told Tim that she had never had a relationship with Christ. She said that Tim and Jennifer never judged her or pushed their faith on her, but they lived in a way that served others.
"God put you here to help us," said Maria. "I don't know what we would have done without you! You are the most beautiful example of loving your neighbor that I know. God gave you very beautiful and generous hearts. Thank you for helping me."
Weeks later, Maria was excited to tell the Goshorns that she is pregnant! She and her husband are so happy. She said, "God has given me a gift of blessing again. I trust that everything will turn out well with His blessing."
Thank you for supporting TMS Global and our cross-cultural workers. Your support not only helps to train, mobilize, and serve workers, but your gifts help workers to care for people in their communities. From delivering food to paying for medical care to sharing the love and message of Jesus with others, you are making a difference.
*Name changed for privacy
Photo: Jennifer Goshorn with some of the children who attend their ministry regularly.
Prayer requests:
Peru is still under lockdown. The number of cases of COVID-19 is growing, and the hospitals are overwhelmed. Many doctors have not been paid. Pray for the doctors, nurses, and people infected.
Pray for people who are out of work and do not have enough food.
Pray for the Goshorns and other people who are delivering food and medicine to people who desperately need help.