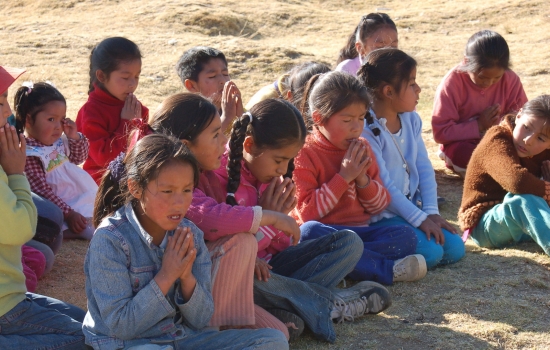 03.26.2020
We asked some of our cross-cultural workers in different parts of the world to send prayer requests related to COVID-19 and how it is impacting the communities where they serve. This small sampling gives just a glimpse into some of the difficult challenges being faced—and also a look at how God is moving in hearts during this time.
Thank you for your prayers and all the ways you are caring for these workers, as so many are on lockdown and separated from family, friends, and the people among whom they minister.
From the Middle East:
"Pray for our local friends and the working people here. The economy is fragile as tissue paper, and this will certainly out a strain on the local worker. Most live from week to week working multiple jobs. Now many will not receive wages as tourists have left and productivity decreases."
From Eastern Europe:
"My Muslim friends asked if I was scared of getting the virus, and I said, 'No. I know I will go to heaven.' Everyone stopped and thought about my response. Some of my fellow teachers began asking for prayer after that."
From the Balkans:
"Social distancing has forced a shift in ministry for all of us. In our context this shift has meant connecting through social media. In many relationships, a simple check-in has provided moments of peace and comfort. Technology can so often be viewed in a negative light, but it is also allowing the growth of the kingdom to continue."
From Europe:
"Full lockdown isn't easy. Knowing people who are currently in ICU or at home on government quarantine because they are positive is terrible. Knowing that we may never see some people again...
It is tough to be a mom and cross-cultural worker serving overseas and separated from my adult children and my mother, who live in another country. If something happens back home, we are on full lockdown and can't travel. We can't go."
From Latin America:
"We work at a private Christian school for children of the jungle, so we are currently operating online as best we can since schools have been closed. We are constantly trouble-shooting how to continue the learning process for our students, especially those without access to a computer or internet. We are clinging to Psalm 46:1, 'God is our refuge and strength, an ever-present help in trouble' (NIV)."
From Southeast Asia:
"Everyone is fearful and doesn't know what to believe. Our ministry plans have been upended, and we cannot be close to the students who mean so much to us. But we serve a God who casts away all fear and extends His grace!"
From South Asia:
"Individuals we interact with regularly are taking social distancing very seriously. This is wise but also feels lonely, especially considering it's our first year here. We are focusing on our family and seeking out ways to help those struggling during this time."
From the Balkans:
"There are many people here who don't make much every day, and now they have no work. There are also many people who are still displaced because of the earthquake back in November. They are living in tents outside their damaged homes."
From South Asia:
"There is one doctor for almost 18,000 persons in our state, so the spread of COVID-19 would be pretty devastating here. My prayer is that God would cover this place with his grace during this time."
From South America:
"We're going into our tenth day of lock down. No flights are allowed in or out of the country. No driving, taxis, or public transportation. We're allowed to leave the house alone between 5:00 am and 8:00 pm. If caught out at other times, you will be arrested.
"I spoke with the police and military about the people in our programs (children's ministry and feeding programs) who have no food or any means of getting any. I showed the police our documentation, and they gave me permission to go out during the day and help these families get food and medicine. I feel very blessed to be able to help."