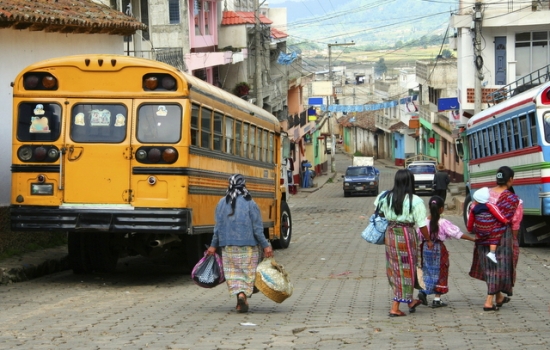 04.17.2017
When God called Luke Rhyee to become a physician in his home country of South Korea, he never imagined he would one day serve in a rural community in Guatemala.
Luke attended medical school in South Korea and practiced medicine there for several years. He then moved to North Carolina to attend Duke Divinity School, where he earned a Master of Divinity degree. Luke became an elder in the South Carolina Annual Conference of The United Methodist Church and pastored a church before feeling called to cross-cultural ministry.
After participating in multiple short-term mission trips to Guatemala and witnessing the devastating poverty and lack of medical care residents faced, Luke made the decision to serve in Guatemala full time.
Luke founded Healing Guatemala, which was designed to combine his passions for physical and spiritual wholeness. The organization provides medical care, a feeding program, and shares the gospel with the people of Quetzaltenango, Guatemala.
Quetzaltenango is a town of 200,000 residents, most of whom are Mayan indigenous people. Healing Guatemala serves nearly one million people in Quetzaltenango and the surrounding areas.
In January, Luke drove a large truck filled with medical equipment from South Carolina to Quetzaltenango, through Mexico. This routine delivery drive turned out to be a journey of faith.
As Luke loaded the medical equipment into the truck on January 4, he knew the 3,000-mile trip would be a hard one. He made all of the necessary arrangements beforehand and planned to cross the US-Mexican border at Laredo, Texas.
But, when Luke arrived in Laredo, he was not permitted to cross the border. He tried four different international bridges and was denied at all of them. One guard suggested that he try Los Indios, Texas.
Los Indios was 200 miles away, and there was no guarantee that Luke would be able to cross the border there. He knew that there were two gangs in a town on the way to Los Indios that often became violent, so he checked the news. CNN was reporting riots in the town that day. A gas station has been set on fire and stores were being looted. Luke would have to drive through this town.
As Luke prayed about what to do, he saw a sign for a small creek that was called Los Indios Creek. Luke felt God saying, "Come to me" as He prayed. Soon after, God impressed upon Luke, "Do not be afraid!"
Luke decided to drive to Los Indios and try to cross the border. He arrived safely in Los Indios and, after two days of waiting, Luke was allowed to cross into Mexico. He was stopped by multiple Mexican police officers as he drove the 14-hour days through Mexico. Once he reached the border to Guatemala, he had difficulty getting the equipment through customs.
Luke recounts, "When I heard God say, 'Come to me,' everything changed. I began to look at this trip as a journey to God. I didn't have fear, even in the area where two gangs were fighting. The hardships and the delays didn't matter once I was focusing on this as a journey towards God. My focus shifted from the delivery of the equipment to the Lord. I pray that every morning and every moment, my soul can hear the calling of the Lord, 'Come to me.'"
Luke arrived, safe and sound, with the truck full of medical supplies for Bethesda Clinic in Quetzaltenango. With this equipment, he has been able to provide better care for the people of Guatemala.
Your donation to TMS Global will enable us to mobile, train, and serve workers, like Luke, around the globe. Thank you for partnering with us in this mission.