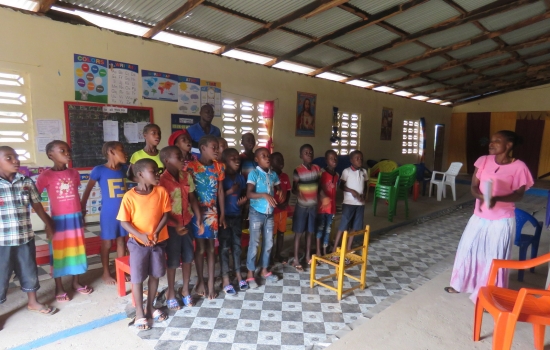 03.24.2020
Joey and Kerry Davidson serve in Liberia through TMS Global. They are starting an ecotourism business in the town of Plunkor. Joey, Kerry, and some of the business' employees all live together on a piece of beach property. They harvest coconuts to help support the business, train staff in hospitality, and ready the guest houses for tourists.
Each morning, the Davidsons sit on their front porch and pray for the people of Liberia. "We pray that God's kingdom would continue to grow along our road," said Kerry. "I realized that many of the children and adults in Plunkor could not read, but I wasn't sure what to do about it."
After many prayers, Kerry decided to apply for a grant through TMS Global to start a literacy program. She received the grant and started Coconut Club a few months later.
The government-run schools in Liberia are severely underequipped. The teachers are not being paid, have few resources, and are not trained. Schools near the Davidsons only go through the sixth grade. Many families in rural areas send their children to live with relatives in other towns as indentured servants in exchange for the education of their child. Kerry said, "By helping to improve the educational opportunities in our area we hope to keep families together."
Kerry hired six Liberians to lead the Coconut Club program. She meets with them for several hours before the clubs start and is training them how to teach phonics and literacy. The groups are divided into four different classes by age. Eighty-four children, ages 5-15, are meeting four afternoons each week in space provided by local churches.
The teachers teach the children phonics, letter recognition, and literacy education. They also teach Bible stories, songs, and help them memorize scripture verses. Parents pay a small fee to enroll their child in the class, and the children put on a program each month to demonstrate what they have learned.
Martha works with the Davidsons and decided to enroll her 15-year-old son, Darius, in the program. Darius cannot read and has chosen not to attend school.
Darius enjoyed the songs and lessons at Coconut Club, but when the teachers handed out worksheets, he would run away. "Darius was scared because he didn't know how to write and didn't want to be embarrassed in front of his peers," said Kerry. The teachers met with Darius individually and helped him catch up in reading and writing. Darius is now fully participating in the Coconut Club and is enrolled in the local school again.
"We hear nothing but praise from the community about the impact this program is having on their students," said Kerry. "At the last program, one mother said, 'People always think the children in Buchanan (the closest city) are clever, but now we know that our children can do these things too. Our children are clever.'"
Next steps:
Pray for the Davidsons, the Coconut Club teachers, and the children who attend. Pray that they could experience the love of God and draw near to Him.
Join the TMS Global team in Liberia.