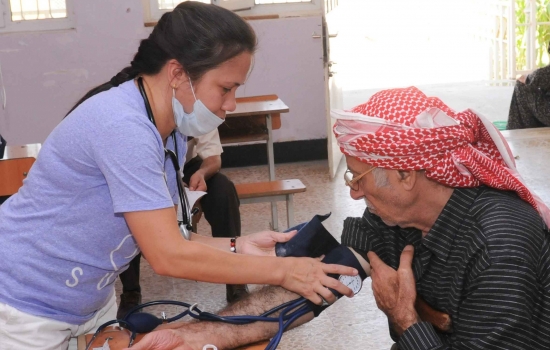 10.17.2016
Mike Goodyear, a former Mission Society board member, has served as the lead pastor of Pathway Fellowship in Fair Oaks, California for the past 36 years.
"In the early years of Pathway, our mission program consisted of solely sending money to missionaries. In the 1990s, we began to get personally involved in missions, and partnered with ministries in South America and Africa," said Goodyear. "Then God began to draw us to the 10/40 window, where the most unreached people groups reside. We took teams to Bangladesh, Cambodia, India, China, Mongolia, Myanmar, and Pakistan."
In 2002, Goodyear engaged The Mission Society to help Pathway become more involved in mission locally, nationally, and internationally. Since then, the congregation of 150 has grown to support 40 missionaries and take short-term mission trips each year, in addition to supporting multiple local ministries.
Last summer, a team of 21 traveled from Pathway Fellowship to the Middle East to work with Kurdish refugees for two weeks. "We knew that this was going to be the most challenging of our world outreach projects," said Goodyear. The team planned to provide medical care to refugees, as well as coordinate children's ministry programs at the clinic, and pray with patients.
"As we waited in the airport, the local missionaries we were going to work with called to tell us that the government was going to confiscate all of our medicines and medical supplies," remembers Goodyear. "We prayed for God's guidance and waited in the airport. Just then, a woman walked up to me and said, 'Hi, Mike.' (We were wearing nametags that displayed our names in English and the local language.)
"I said hello and she asked why we were in this country. I explained our mission and she was touched by our efforts to help refugees. She said to let her know if we needed anything while we were in the country. I told her about the situation with our medical supplies.
"This woman had a relative who was an important leader in the government. She made some calls and we were allowed to bring the medicine and equipment into the country."
The team worked out of a school building that was on summer break. The temperature averaged 117 degrees, and higher inside the small, cinderblock rooms where the teams were working.
The team treated around 100 patients each day. "We had to turn away at least that many," said Goodyear. "It was heartbreaking. People were pressed against the doors and windows, desperate to get inside. Unfortunately, we were not equipped to do surgery or treat many of the chronic problems that we saw. We witnessed survivors of gas warfare and other injuries from war."
The team prayed for each patient, gave out Bibles in the local language, and shared their testimonies through translators. They also visited homes on their last day, sharing their faith with local residents. Goodyear also held two baptism services in a nearby river.
"We plan to take another team," said Goodyear. "Next time, we know what medications we will need. We also will bring surgeons to treat the illnesses that we were not equipped to treat before."
"It was unmistakable that God had called us to minister in this place," said Goodyear. "The team was incredibly blessed by the experience and more people from Pathway want to join the next group. God is good and to Him be the glory."
Photo credit: Pathway Fellowship