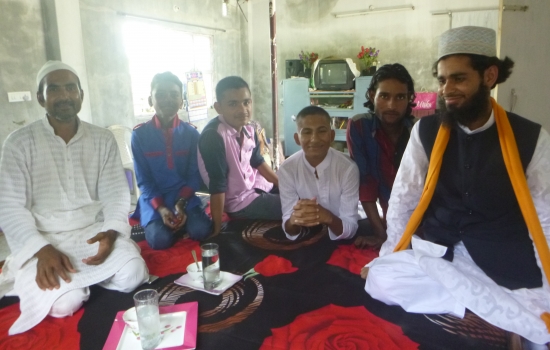 11.30.2015
Henry* and Elizabeth* and their family serve in an area of Asia that has a high concentration of Muslims.
A few days before Christmas, I met with some of my Muslim friends. Throughout the year, they graciously help me practice Hindi each week and we talk together about life and faith.
I felt led to share with them a recording in Hindi that I had from Luke, chapters one and two. I wanted to share with them why Christmas means so much to me. I had done some research in the Qur'an and found a passage that tells the story of the virgin birth and how God sent Jesus.
I asked my friends to read the short passage from the Qur'an that I had downloaded on my phone. I talked about how interesting this was and about the miracle of the birth of Jesus. Then I asked if I could share a similar story from the Bible with them. They were interested, so I played a recording of the first two chapters of Luke.
When we were finished listening, I told them that we celebrate Jesus' birth on December 25th. I explained that, to celebrate the gift of Jesus' birth, Christians give gifts to each other. Then I pulled out a box of sweets from my backpack and offered it to my friends and wished them "Merry Christmas." They accepted the gift and responded to me by wishing me "Merry Christmas" as well.
One of the men asked to see a picture of my family. As he looked at the picture, he asked about one of our children. I explained to him that she is our adopted daughter an African nation and that God had called us to take care of her. The man's eyes filled with tears. He held the candy in one hand and my hand in his other hand. He looked at me and said, "I am so proud to know you."
As I got on my motorcycle and headed home, I wondered if anyone had ever wished them "Merry Christmas" or offered them a gift in the name of Jesus. My prayer is that, as I and my family continue to build relationships with my friends and their families, they will experience Jesus through us—both in word and in deed—and that they will come to know and love Jesus as Savior and Lord.
*Pseudonyms used for security purposes.