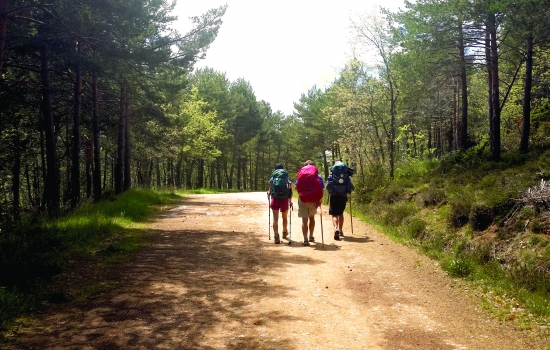 09.01.2014
We are made for connection. In fact, we are fashioned in the image of a community—Father, Son, and Holy Spirit. But when it comes to major junctures in our life journey, we can sometimes think we have to figure it out alone, forgetting that the community around us is a resource.
We asked some of our missionaries to tell the story of their call to missions, and how they were helped by others—or helped others—in recognizing God's direction. May their stories inspire us to stay in the company of God's people as we walk along our life's way.
"Want to come along?"
I'm pretty sure that's how it all started. That's how almost anything we do starts.
Thomas Couch was a college student who spent time working with our church's youth group. We had two adolescent sons in the youth group, so we were acquainted with Thomas and the other youth workers.
One year, we were getting ready for our summer trip. Our family had spent several years doing mission work on the Texas-Mexico border. For three months every summer, we would pack up and move to the border. We (Billy and Laurie Drum) were in charge of the college-age summer internship.
Mexico summers
College students would volunteer to spend their summers helping to facilitate mission teams. It is a tough job for these kids—5:00 a.m. mornings preparing for the day, working all day in the 104 degree Mexican desert, then back to base camp where they ran an evening program of music, worship, and Bible teaching, finally falling into their bunks at midnight after prepping for the next day. There aren't too many college kids who volunteer to work that schedule all summer!
Through a few casual conversations, we knew that Thomas had a heart for serving and a huge heart for God. He also had nothing substantial planned for his summer, so we said, "Want to come along?" And he did! Thomas committed to try it out, so we set him up for a two-week, get-your-feet-wet period.
Our job as intern directors was to walk alongside these students as they worked all summer. We had morning devotional time together. We spent most of our hours in the day together. We wrestled with the things that they wrestled with. Every evening, we debriefed the day and talked about where God was in it, and also about where we were with God in the process of our own lives as disciples. We did a lot of laughing together, and we did a lot of crying together.
Thomas' two-week period flew by, and we asked him if he wanted to continue through the rest of the summer. And he did!
Peru visits
That was so many years ago, I honestly can't figure it out to count it. Thomas became a part of us that summer, and has remained so to this day. We stayed close and we continued to learn and grow in Christ with him. When we joined The Mission Society and headed out to Peru for our first term of service, we asked Thomas to serve on our home team as an anchor for us in Texas.
Thomas married his incredible wife, Karen, while we were in Peru. We had known Karen for a while as well, as she had also been a college-age youth worker in our home church. She was now the youth director of that same youth group. They came to Peru to visit us and spent two weeks learning about our work and the country. For the next two years, the Couches brought a team of youth to work with us.
We have watched Thomas and Karen's hearts grow deeper and deeper in their faith and in their love of God and of service. For the past couple of years, Billy and I would look at each other and wink and say, "One day, they'll take that step and be in full-time mission service."
Full-time missions
When we were back in Texas for furlough last year, we taught a six-week intensive mission class at our church, as well as a separate six-week inductive Bible study on missional scriptures. Thomas and Karen were the first to sign up. And each week, Thomas met with Billy for lunch and coaching. Somewhere during that time, the words finally came. "We think we're ready. We're thinking about full-time missions."
I'm pretty sure it all started with, "Want to come along?"
Laurie and Billy Drum lived among the Quechua Wanca people in rural Peru for five years. They now live in Spain where they serve the immigrant population while working alongside the local Spanish church. The Drums— both certified teachers, trainers, Christian life and leadership coaches, and counselors—also serve other cross-cultural witnesses through member care and leadership development.