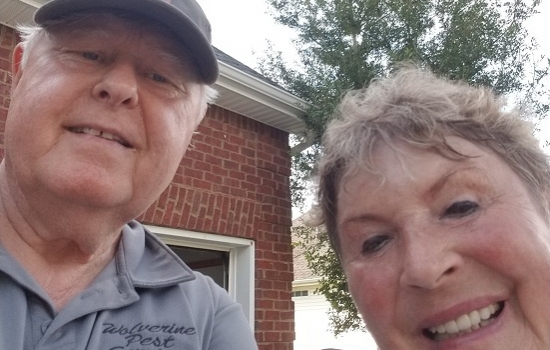 12.17.2020
Shirley was a teenager when she was struck by a car while walking down the street. Because of the accident, Shirley has suffered from back pain most of her life. For the past four years, she has been in severe pain and has sought different treatments for relief.
Neal served as a cross-cultural worker in Japan with TMS Global for more than 30 years. Neal returned to the US in 2011 and helped to found Crossroads to the Nations, a church focusing on the Japanese community in Nashville, Tennessee. Neal and Shirley met and married in 2014.
The couple had been discussing with Shirley's doctor, a well-known neurosurgeon, the need for another corrective back surgery. The doctor declined additional surgery, feeling that it was too risky. Neal and Shirley were discouraged, and they began to pray and ask God for guidance in finding another surgeon to treat her.
Soon after, Neal was at church one afternoon when he heard about a woman who was cleaning out a family member's house and needed to give away some furniture and other items. The church's pianist needed some of the furniture, so Neal brought his trailer over to the house to help transport what she needed.
At the house, Neal met Tamara, an 81-year-old Japanese woman who was cleaning out the family member's home by herself. Neal made several trips to remove items from the house and persevered down to the very last items in the garage. Tamara and Neal worked side by side, hour after hour. As they worked, they talked and shared their stories.
Tamara shared about her son, Dr. Shibayama, who is a prominent spinal cord surgeon working at a local hospital. He had been an alcoholic, went to rehabilitation, and gave his life to Jesus. Tamara talked with such pride about how her son was transformed by his experience and is active in a local church. Neal shared with Tamara about his life, his ministry in Japan, and the church he had helped to plant.
Neal felt that God had led him to learn about this spinal cord surgeon, so Neal made an appointment for Shirley to be evaluated by Dr. Shibayama. After appointments and consultations, Neal and Shirley scheduled a major back surgery. Dr. Shibayama held Neal's and Shirley's hands and prayed with them before he took Shirley back for the procedure.
After the surgery, Dr. Shibayama came to Shirley's hospital room to check on her. Neal said, "Dr. Shibayama began to tell the nurses and staff how overjoyed he was that his mother had come to Christ, and she was sharing with him about her transformed life!" Neal's witness that day in the garage had led Tamara to give her life to Jesus!
Neal brought Tamara a devotional book. He said, "Tamara and I call and text, and she is reading the devotional book I gave her every day and reading the Bible. How good Jesus is! All glory to our wonderful Lord!"
God's direction not only provided Shirley with a surgeon who could help relieve much of the pain that had been crippling her, but He also used Neal's encounter with Tamara to share the truth of His grace and love for her.
Pictured: Neal and Tamara