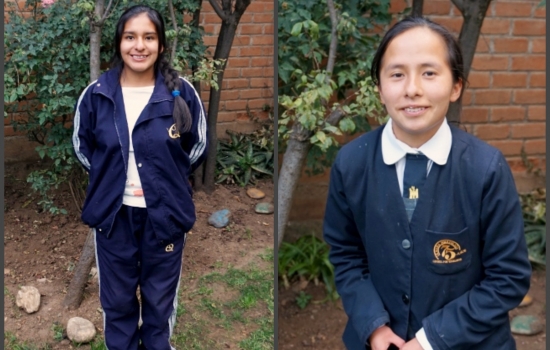 07.23.2019
Valeria and Elena are 17-year-old girls from Huancayo, Peru. Both girls suffered sexual abuse as children, and they have carried shame and feelings of worthlessness throughout their lives. Valeria and Elena live at an orphanage. Their fathers are in prison, and their mothers both died.
Jennifer Goshorn is a TMS Global cross-cultural worker who lives and serves in Huancayo. She and her husband coordinate a children's ministry, and Jennifer leads a Bible study for women who are incarcerated. After becoming aware of the hurt and abuse of so many young women, Jennifer started a Bible study for teenage girls.
"In this culture women are not treated well by their spouses, fathers, the fathers of their children, or even their own children," said Jennifer. "They are often sexually abused, beaten, and abandoned."
Valeria, Elena, and other teens gather at Jennifer's house each Wednesday to study the Bible and find community. Jennifer is leading the group through Denise Glenn's study, "Restore My Heart."
The young women know that women in their culture are not valued or respected, but they had been taught to believe that they could do nothing to change their situation. They believed that they truly did not have any value.
"As we studied and talked together, the girls came to understand that they are worthy and deserve to be treated with respect," said Jennifer. "Their whole perspective changed. They have hope.
"I am looking forward to seeing these girls transform their thinking from shame, worthlessness, and insecurity to believing that they are fearfully and wonderfully made. I know it is going to be a struggle. The enemy is here and working hard, but we already have victory in Christ."
Pseudonyms used for privacy.
Next steps:
Pray for Jennifer as she leads this group of young women.
Pray for Valeria and Elena. Pray for them to experience healing and freedom in Christ, for their protection from abuse, and for their future as they leave the orphanage.
If you are interested in ministering to hurting youth, contact our mobilization department. We can help you find your place.