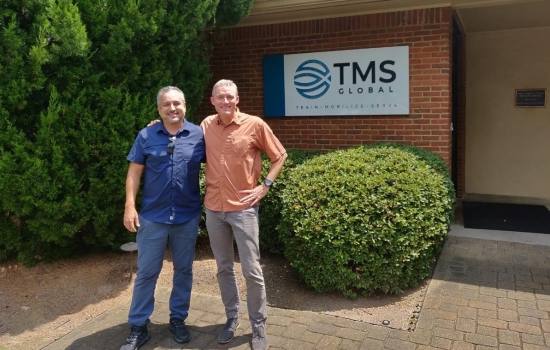 09.25.2019
There is an African proverb that says, "If you want to go fast, go alone. If you want to go far, go together." TMS Global has taken this expression to heart as we seek to invest in meaningful partnerships that will expand cross-cultural ministry opportunities. One of the ways we develop partnerships is with international ministry leaders.
TMS Global has international partners in multiple cultures around the world. These partners aid and affirm local expressions of leadership that will empower movements to Jesus rather than creating structures and institutions that depend on organizational management.
One of TMS Global's international partners is Luciano Pereira da Silva.
Luciano was born in a small town in Brazil. God spoke to Luciano one day and told him that he would travel the world. Years later that word came true when Luciano felt called to serve as a cross-cultural worker.
Luciano was pastoring a growing Methodist church in Brazil. Although he felt fulfilled in his work, he knew that God was calling him to serve cross-culturally. Luciano and his wife prayed and felt led to minister in Canada. Luciano resigned from his position as senior pastor to prepare to move to Canada. Later that year their family did not receive visas and, therefore, were unable to relocate.
While they did not understand this turn of events, Luciano and Shirley prayed and sought the Lord. Luciano spent the next year traveling and preaching at various venues as they waited on the Lord to make their next steps evident.
Luciano and Shirley joined CIEMAL, The Council of Evangelical Methodist Churches of Latin America and the Caribbean. They began serving with this organization in Peru. Together they planted a church in a poor community outside of Lima.
During their time in Peru, Luciano met TMS Global staff and workers during a mission training event. Steve Wilson, who now serves as TMS Global's vice president for mobilization, connected with Luciano.
Steve and Luciano began to lead cross-cultural mobilization and training events each year, first in Peru and then in Panama. Together they taught about the importance of reaching beyond the church walls to engage the community's people with the transforming message of Jesus. They walked pastors through how to engage their churches in mission and lead their congregations in new areas.
A bishop of the Methodist Church from Brazil attended one of the trainings and was excited by the possibilities of reaching new areas of his home country. There are 40 unreached people groups in the Amazon jungle area of Brazil. The bishop partnered with TMS Global and Luciano to begin to explore ways to reach people in these areas.
Luciano and his family moved from Peru to Panama to plant a church in a red-light district. The church grew to 100 people and is considered a model missional church. Luciano also helped to plant three other churches in Panama. Luciano continues to serve as a pastor in Panama and also as the general secretary of CIEMAL.
Luciano, Steve, and other TMS Global staff hold training events in Panama, Brazil, and South Asia. Together they are helping pastors and congregations understand God's heart for the nations and how to be intentional about reaching our neighbors for Jesus.
"Luciano is a very gifted person who God is using in incredible ways," said Steve. "Later this year Luciano will be in South Asia mobilizing the local church for God's mission. It is beautiful to see God fulfilling this call to global mission in Luciano's life. This is the blessing of working with international partners—going far together for the sake of God's kingdom."